AFL accused of failing to protect players from concussion in submission to parliament | AFL
Veteran sports agent and long-term concussion campaigner, Peter Jess, will present a list of 32 AFL players that have retired with some form of brain trauma injury since 2009 to a federal parliamentary inquiry.
In his submission, which is yet to be lodged, Jess accuses the AFL of downplaying the serious risks of long-term injury, of failing to protect players and of being too slow to adopt new concussion-detecting technology.
The AFL rejects these claims and argues its concussion protocols are among the strongest in world sport. In 2021, it doubled mandatory time-outs for players who suffer concussion, with at least 12 days of observation required before they can return to the field.
But Jess, who has represented more than 130 former VFL and AFL players diagnosed with long-term neurological issues, said the concussion rules were not tough enough. He has recommended a mandatory 30 day stand-down rule, regular brain scans and an independent body to enforce compliance.
"The return to play protocols are not protecting participants from the impact of repeated concussive traumas, which will lead to long-term neurological damage unless mitigated," the submission said.
"The levels of traumatic brain injuries in the past players simply confirms the current system has failed and that without the modifications outlined, will continue to fail.
"The cost to the participants and their families is incalculable from a humanitarian and financial point of view."
An AFL spokesperson said player welfare was its highest priority and the 12-day exclusion period was "one of a multi-faceted set of standards and guidelines to be considered" by club doctors.
"The very next line in the guidelines specifies that if symptoms persist beyond the first 48 hours, a slower return to play approach should be adopted," the spokesperson said.
The spokesperson said that since 2005, the AFL had made more than 30 changes to rules and tribunal guidelines to deter conduct that risks concussion, including penalties for high tackles and changes to the bump rule.
In a letter to senior AFL executives, including chief executive, Gillon McLachlan, in December 2022, Jess said the list of 32 players was "not a complete analysis", but "highlights the extent of the problem and the dangers".
"Included in the list are a number of participants who have attempted suicide due to their brain trauma," Jess said.
The list includes Daniel Venables, a former West Coast premiership player who retired in 2021, but believes he could still be playing had he received proper treatment.
Venables and other former players participated in a massive AFL study that promised to make "groundbreaking" findings about concussion, but ultimately provided no published research and created confusion about what happened to tests performed on players.
In October, the AFL apologised to players involved after a review into the work of the league's former concussion adviser, Dr Paul McCrory, admitting they were "let down" and that the project was "under-funded and under-resourced".
The list compiled by Jess also includes former Brisbane premiership player turned commentator, Jonathan Brown, who suffered about 20 concussions and has admitted to playing when he shouldn't have.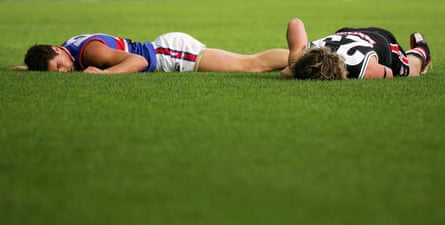 Also included is former St Kilda player Justin Koschitzke, who said he should have sat out the entire 2006 season, after fracturing his skull and bursting an ear drum in a sickening clash.
The AFL is preparing a submission to the senate inquiry. The organisation believes it has always upheld its duty of care, as "informed by the knowledge, powers and science available to it at relevant times".
"Protecting the health and wellbeing of all people who participate in our game is the highest priority for the AFL and we take concussion and the protection of the brain health of all those playing our game extremely seriously," the spokesperson said.