Australia news live: 90,000 students failing basic Naplan tests; prison failures risk UN blacklist | Australia news
Key events
90,000 school children failing to meet Naplan standards
Almost 90,000 students each year are failing to meet minimum Naplan reading or numeracy standards, according to the Productivity Commission.
The commission is releasing a report into the national schools reform agreement today.
It found the agreement:
doesn't include sufficient clear, measurable targets to drive reform including having only one target for academic achievement and none for student wellbeing

lacks targeted reforms to improve outcomes for students from poor backgrounds, from the regions, Indigenous students and students who do not meet the minimum standards for literacy and numeracy; and

lacks transparent, independent and meaningful reporting on the reform activity of governments.
The report did not consider schools funding, which was not within scope.
The education minister, Jason Clare, said:
This report makes it clear that serious reform is required. It is very critical of the current national school reform agreement developed by the former Coalition government. It also makes it clear that the implementation of this agreement over the last four years has been slow and has had little impact. This is damning.
The report recommends:
freeing up more of teachers' time for teaching

clear and measurable targets for academic achievement of all students, in particular students from priority equity cohorts;

targets to reduce the proportion of students who do not meet minimum standards of literacy and numeracy;

public reporting on progress on implementing reforms and achieving targets; and

focus on student wellbeing.
In December Clare and state and territory ministers commissioned another review of the agreement, which is set to last to December 2024 after it was rolled over for an additional year.
Clare said:
This is an important report and it will play a key role in the development of a new national school reform agreement. Work on that has now begun … In future, funding needs to be tied to reforms that will make a real, practical difference.
Trans-Tasman ties likely to stay strong
The resignation of Jacinda Ardern has caused waves across the Tasman but her departure is unlikely to affect Australia's relations with its near neighbour, according to one former diplomat.
"The Australia-New Zealand relationship is very close, and will remain so irrespective of who the prime ministers are," said Allan Behm, a former diplomat who worked closely with New Zealand.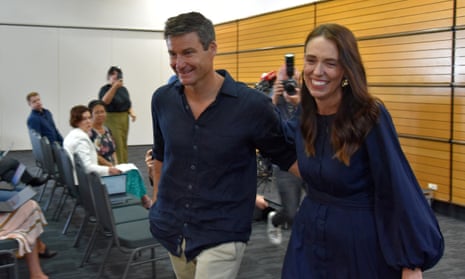 "But when you have PMs who get on really well, like John Howard and [former New Zealand prime minister] Jenny Shipley did, or clearly as Anthony Albanese gets on with Ardern, it makes the relationship that much more effective."
Josh Butler has the full story here, and there is also a full appreciation by our New Zealand correspondent Tess McClure here:
Tenterfield police shooting
NSW police have launched a critical incident investigation after a man was shot dead when he pointed a gun at officers at a northern NSW police station.
The 48-year-old had attended Tenterfield police station when the confrontation happened on Thursday afternoon, police say, and he died at the scene.
Standby for more updates on this story.
Good morning and welcome to our rolling news coverage. I'm Martin Farrer here to bring you the main overnight news before my colleague Mostafa Rachwani takes over for the main part of the day.
The big moving story of the past few hours has been that three more adults have been charged with the murder of Indigenous teenager Cassius Turvey in Perth last October. A 27-year-old man from Wundowie, a 24-year-old man from Chidlow and a 20-year-old woman from Herne Hill have each now been charged with murder and will appear at Perth magistrates today, Western Australian police said last night. Jack Steven James Brearley, 21, has already been charged with murder.
Australia risks being placed on a human rights blacklist after the three most populous states failed to meet their obligations on oversight of prisons under a UN anti-torture treaty. The human rights commissioner, Lorraine Finlay, said such a failure could affect the country's human rights credibility on the world stage. The deadline to comply – already extended twice – runs out today.
Almost 90,000 students each year are failing to meet minimum Naplan reading or numeracy standards, according to a report by the Productivity Commission this morning. In a review of the National School Reform Agreement, the commission said boosts to funding have had little impact on literacy and numeracy results.
And we can't finish without mentioning the epic tennis news overnight with Thanasi Kokkinakis playing out a five-set thriller with Andy Murray at Melbourne Park that didn't finish until after 4am. It was a suitably dramatic end to a day that also saw world No 1 Novak Djokovic rage at heckling fans whom he accused of being "drunk", and where Russia's Andrey Rublev accused Ukraine-supporting fans of giving him verbal abuse.