Baltimore man tried four times for same killing sees all charges dropped | Baltimore
A Baltimore man who stood trial four times for the same killing had all charges against him dropped on Friday.
In a statement, the Baltimore state attorney, Ivan J Bates, said his office had dismissed all charges against Keith Davis, 31, who was accused of the 2015 killing of Kevin Jones, a security guard at Pimlico Race Course, after police alleged Davis's gun matched casings found at the scene of the shooting.
Davis maintained his innocence.
"Today's dismissal is about the prosecutorial missteps of my predecessor in her pursuit of a conviction at all costs," said Bates, referring to Marilyn Mosby, the former Baltimore state's attorney, who repeatedly brought the case to trial.
"As state's attorney, I have a duty to ensure justice for all, not just the victim but also the accused."
Bates said he had directed the deputy state's attorney Thomas Donnelly to review the controversial case, a reconsideration Bates promised during his run for the top job.
Jones was shot and killed on 7 June 2015, at the Pimlico track in north-east Baltimore. A few hours later, a taxi driver told police officers an individual had attempted to rob him at gunpoint. Police chased Davis, firing 33 rounds as he ran to a garage. Three shots hit him, including in his face.
Davis was the first person shot by police in Baltimore after the death on 19 April 2015 of Freddie Gray, a Black man severely injured in police custody. Gray's case resulted in violent clashes across the city, amid protests over police brutality.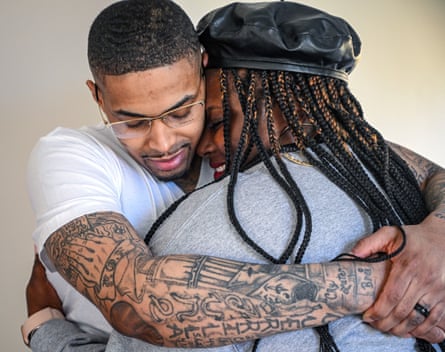 Upon surrendering, Davis told authorities he did not have a gun and had been misidentified as the suspect sought by police. Authorities said they found a gun on top of a refrigerator behind which Davis sought cover. Davis maintained fingerprints on the gun did not belong to him and that he ran away from police because he saw them running towards him and was afraid.
Davis went to trial in 2016, on armed robbery charges. He and his attorneys argued that police planted the gun to cover their tracks after allegedly shooting an unarmed person by mistake. Later testimony by the taxi driver revealed that Davis did not look like the individual the driver said attempted to rob him.
Davis was found not guilty of all charges except illegal gun possession, which he denied. He was handed a five-year jail sentence.
Approximately a week later, Davis was charged with murder, after prosecutors claimed the weapon found on Davis was connected to the Pimlico shooting.
Davis underwent four trials, all of which resulted in mistrial or overturned convictions of second-degree murder. A fifth trial was scheduled for May, before the charges were dropped on Friday.
"It is clear that a blatant disregard for the rules of professional responsibility and the law has permeated throughout the attempted prosecutions of Mr Davis," Donnelly said.
"The handling of the Pimlico case up to this point, as well as the timing and manner of the … charges, have caused serious questions regarding the integrity and legitimacy of any further prosecution of Mr Davis."
Mosby told the Associated Press the case "has always been about the pursuit of justice for Kevin Jones and his family". She did not comment further.
Jones's grandmother, Earlene Neals, said she felt heartbroken.
"Our family is destroyed … Kevin is getting no justice whatsoever, none," Neals told the AP, adding that she was skeptical police would identify another suspect.
In a statement, Deborah Katz Levi, director of special litigation in the Baltimore office of the Maryland office of the public defender and counsel for Davis, said: "After four trials for a crime he did not commit, all guilty verdicts were overturned for police, prosecutor, and even court error.
"We are grateful that the state's attorney's office understood that this case was replete with so many past mistakes and evidentiary issues, which all amounted to a denial of Mr Davis's right to due process and a loss of confidence in the criminal justice system."