Boris Johnson urges west to ignore Putin threats and give Ukraine tanks | Davos 2023
Boris Johnson has urged the west not to fall for Russia's threat of nuclear war but instead ramp up its supply of heavy weaponry to Ukraine.
The former UK prime minister appeared on a breakfast panel at the World Economic Forum in Davos to discuss Ukraine – with Ukrainian president Volodymyr Zelenskiy joining via video link.
Johnson said Russian leader Vladimir Putin wants to present it as a nuclear standoff between Nato and Russia, but the west should call his bluff. "Nonsense," he said. "He's not going to use nuclear weapons.
"People argue that we should not escalate and should be wary of doing things that further provoke Putin," he said. "How can we escalate against a guy who is doing all-out war against a civilian population?"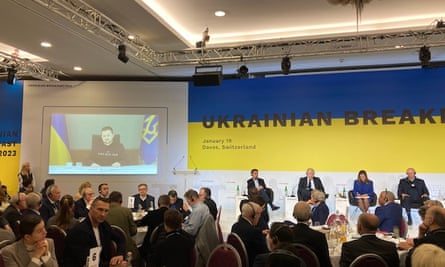 The appearance of Johnson, who stood down as prime minister in July after the Partygate scandal, at the gathering of the world's elite in the Swiss Alps, will lead to further questions about his political ambitions amid speculation that the MP for Uxbridge and South Ruislip is plotting a comeback. Rishi Sunak decided against attending the annual gathering amid persistently high inflation and the cost of living crisis in the UK, with the business secretary, Grant Shapps, and international trade secretary, Kemi Badenoch, the highest-profile UK government attenders.
Johnson, who refused to answer questions about Sunak's absence at Davos, urged world leaders to stop worrying about "Kremlinology" and Putin's motivation and inner circle.
"It's difficult enough to work out what's going to happen in UK politics, let alone the Kremlin."
He said Putin would not use nuclear weapons because the repercussions would be too great.
"He's never going to do it because it would put [Russia] into a complete cryogenic paralysis, he would lose all the ground, all the states that are giving him the [benefit of the] doubt, the Indians, the Chinese, they would immediately turn massively against him."
Johnson echoed calls from Zelenskiy, who used several video addresses to the gathering of senior politicians and business leaders to call for more heavy weaponry, including Leopard 2 tanks from Germany.
"What we've got to focus on is supporting Ukraine and giving Volodymyr Zelenskiy the tools he needs to finish the job," said Johnson. "Give them the tanks. There's absolutely nothing to be lost."
The panel was attended by Davos regulars including BlackRock's Larry Fink, US climate envoy John Kerry and Goldman Sachs's David Solomon.
Fink, who runs the world's biggest money manager, said rebuilding Ukraine would cost in excess of $750bn.
Johnson, who has visited Ukraine four times since Russia's invasion last February, was thanked personally by the Ukrainian leader during the video address.
Johnson once described Davos as "a great big constellation of egos involved in massive mutual orgies of adulation", and also banned his cabinet from attending shortly after becoming prime minister in 2019
Labour leader Sir Keir Starmer and shadow chancellor Rachel Reeves will speak at Davos on Thursday, with Starmer due to tell attenders that Britain will be "open for business" under a Labour government.
The pair are keen to emphasise their business-friendly credentials and the contrast with the previous Labour regime, as well as capitalise on chaos within the Tory ranks after the short-lived but disastrous Liz Truss premiership.