Cash for influence inquiry homes in on Brussels meeting days before World Cup | European Union
Belgian police seized nearly €1.5m in cash from homes and hotels in Brussels last month, allegedly paid by Qatar to sway decisions in the European parliament. Now a series of reports have suggested what that money may have been attempting to buy.
Investigators have homed in on a meeting of the European parliament's subcommittee on human rights on 14 November 2022, where Qatar's minister for labour, Ali bin Samikh al-Marri, defended his country's record on workers' rights.
The meeting took place days before the World Cup in Qatar began. Marri told MEPs that reforms "have been undertaken in a short space of time so it is only natural we face difficulties", and he criticised what he called "racism" against his country.
It was a difficult crowd. MEPs from left and right lined up to criticise Qatar's labour rights record. One football-loving MEP said he would not watch a single game, while another denounced the tournament as "the World Cup of shame".
Behind the scenes, it seems, Pier Antonio Panzeri, an Italian former MEP who is alleged to have taken large payments from Qatar and Morocco, was attempting to pull the strings. In a significant development on Tuesday, he struck a deal with prosecutors, agreeing to provide information on who he bribed and the modus operandi of the corruption network, in exchange for a lighter prison sentence.
Some confidential details from the investigation have already been reported. According to a judicial document cited by Belgium's Le Soir newspaper, Panzeri wrote Marri's speech for the 14 November hearing, advised him on how to position himself and called on old friends in the parliament to ask questions "to lead the minister of Qatar on a known path".
Panzeri is one of four people charged with money laundering, corruption and membership of a criminal organisation.
Seated inside the modern, wood-panelled committee room 3G-3 in Brussels on 14 November was his close confidante and former assistant Francesco Giorgi, an Italian parliament staffer, who has also been detained pending trial.
A few weeks earlier, the pair are said to have met a Qatari delegation, including Marri, at the Steigenberger Wiltcher's, a plush five-star Brussels hotel. CCTV from the investigation shows the pair taking the lifts to a private meeting in suite 412 on 9 October. "The aim was to prepare the minister for this hearing scheduled at the parliament. By prepare, I mean explain to him the European point of view and how he should react," Giorgi told investigators, according to testimony cited by Le Soir.
The meeting broke up after an hour and a half. CCTV showed the Italians leaving with "a bag thicker than when they arrived", according to the investigation report cited by Le Soir.
Panzeri correctly anticipated damning criticism of Qatar's record on migrant workers' rights from several MEPs when the subcommittee met, and he allegedly made plans.
According to the judicial document cited by Le Soir, Panzeri contacted serving MEPs, including Belgium's Marc Tarabella and Italy's Andrea Cozzolino, asking them to intervene in the debate. Both are members of the parliament's Socialists and Democrat group, the former political home of Eva Kaili, a Greek MEP also charged in the case.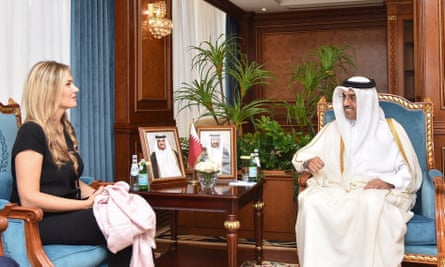 This week, the European parliament's president, Roberta Metsola, launched a process to remove immunity from Tarabella and Cozzolino, after a request from Belgian investigators.
In the meeting, Cozzolino apparently veered off script by asking the Qatari minister to provide more clarity on wages and working conditions, but ended by asking how the European parliament could be more involved in overseeing labour standards in Qatar. Tarabella denounced his fellow MEPs, alleging they had failed to criticise Russia and China over the Sochi Winter Olympics and Beijing summer Games. He accused critical MEPs of basing their assertions on outdated information, urging them "to actually respect [Qatar's] journey".
Neither responded to a request for comment from the Guardian, but both have denied any wrongdoing in the Belgian and Italian press through their lawyers.
Tarabella's lawyer, Maxim Toller, has said his client failed to declare a trip to Qatar in February 2020, but that the MEP planned to rectify this. "Mr Tarabella is very, very clear that he has never received the slightest promise, slightest money or slightest gift in any form whatsoever" to support Qatar, Toller told Belgian TV last weekend.
Cozzolino has also declared his "total innocence" through his lawyers, describing the request to lift his immunity as based on "a hypothesis of the investigation".
Authorities are also said to have examined the role of the person chairing the subcommittee that day, the Belgian Socialist MEP Marie Arena. She quit that position last week after it emerged she had failed to declare a visit to Doha in May 2022 paid for by the Qatari government. According to a leaked extract from the investigation team, "Marie Arena benefits from Panzeri's advice and influence, while the latter uses Arena's position as chair of the human rights subcommittee to exert his influence."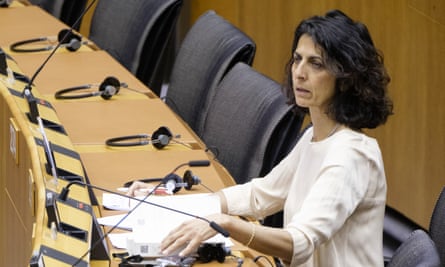 Some people at the meeting, who declined to comment publicly, have raised concerns about Arena's approach. She allegedly ran the meeting to a strict limit, cutting off some critics who overran their time, while not imposing constraints on the Qatari minister.
Claudio Francavilla, a senior EU advocate at Human Rights Watch, who was at the meeting, said: "Regrettably, minister Marri seemed to be under no time constraint during the hearing, whereas Human Rights Watch representative Minky Worden only had five minutes to present and one minute to respond. But I have no element to connect such perhaps deferential attitude to any corruption of sorts, and time is always a constraint during committee hearings."
Miguel Urbán Crespo, a leftwing Spanish MEP, told the Guardian he was "not surprised at all" that investigators were studying the 14 November meeting. There were many interventions from MEPs who were "very accommodating" towards Qatar, he said. And he noted what he saw as an unusually large delegation from Qatar's mission to the EU. "The impression I have is that this meeting is very significant for Qatar," he said.
But Urbán Crespo had no criticism of Arena. He said her chairing of the meeting was "normal" and she allowed his critical intervention to overrun.
Arena did not respond to an email and phone calls to her office went unanswered, but in a media statement she has declared her innocence. "I proclaim loud and clear that I am in no way involved in this affair," she said. She has also described the 14 November hearing as a "transparent and uncomfortable exercise for the Qatari authorities" and said it was "totally impossible" that Panzeri had got something from her, either as committee chair or as an MEP. In a statement to Politico, she blamed her office for failing to declare the May 2022 Doha trip.
A lawyer for Panzeri did not respond to requests for comment, and Giorgi's legal representative declined to comment. Lawyers for Kaili have denied all charges against her.
Neither Qatari officials in Brussels nor the labour ministry in Doha responded to questions about the 14 November meeting, but Qatar has previously rejected all allegations. "Any association of the Qatari government with the reported claims is baseless and gravely misinformed," Qatar's ministry of foreign affairs said last month.