Daughter of Algerian journalist arrested on Christmas Eve calls for his release | Algeria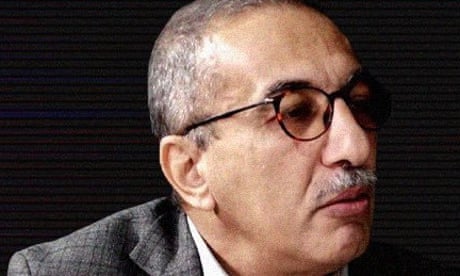 The daughter of the prominent Algerian journalist Ihsane el-Kadi has called for his immediate release from detention in a notorious prison following his arrest at midnight on Christmas Eve.
Kadi, who has been a longstanding critic of the Algerian government and is one of the north African country's most influential voices, was arrested by security forces in plain clothes at his home in the coastal city of Boumerdès, 35 miles east of Algiers, on 24 December and placed in a pre-trial detention.
A judge is scheduled to hear an appeal from his lawyers to release him from detention on Wednesday. His daughter, Tin-Hinane el-Kadi, called for her father to be be freed immediately. "There is absolutely nothing in the case that can justify preventive detention," she told the Guardian. "He is not a dangerous criminal and he can't flee because [the authorities] have already confiscated his passport."
The imprisonment has prompted an outcry from human rights and media organisations but almost no interest from western governments keen to maintain relations with Algeria due to its massive energy reserves.
One close associate of Kadi, who requested anonymity for fear of reprisals, said: "Algiers has been very successful in quieting any criticism … We have not seen any meaningful moves to try to pressure the Algerian regime on its domestic human rights abuses."
Friends and supporters of the jailed journalist say they have been disappointed by the lack of support, which observers say is partly a consequence of the war in Ukraine.
Algeria has massive oil and gas reserves that supply southern European countries and are more important than ever to the European Union as its members seek alternatives to Russian energy. In June, the then Italian prime minister, Mario Draghi, concluded a series of deals with Algeria to reduce Rome's reliance on Moscow for energy supplies.
High prices paid for both commodities has refilled government coffers, encouraging civilian politicians and the army generals who hold real power behind the scenes to believe they can buy off any opposition to their increasingly authoritarian rule, analysts say.
Khaled Drareni, a north Africa representative of the campaign group Reporters Sans Frontières (RSF), said the conflict in Ukraine meant Algeria was in a strong diplomatic position.
"The war means that the Europeans need reliable partners and so think about their immediate interests above all," he said.
Kadi faces charges of carrying out or inciting acts likely to undermine state security and a maximum sentence of seven years in prison. He denies any wrongdoing.
Critics say new Algerian security laws are vaguely worded and designed to provide a pretext to close down any opposition. Sixteen other journalists were arrested last week on similar charges.
Authorities have also shut down the radio network and business daily that Kadi founded. Both were considered among the very few independent media remaining in Algeria. The country is ranked 134th out of 180 countries in RSF's 2022 World Press Freedom Index.
Campaigners say the arrest of Kadi caps an intense campaign of intimidation and harassment targeting people and organisations supportive of the Hirak reform movement, which emerged in 2019 from weekly demonstrations against the former French colony's political establishment. The protests forced the 82-year-old then president, Abdelaziz Bouteflika, to renounce a bid for a fifth term in power and resign, but to no real reforms.
The employees of the closed newspaper and radio network wrote in an online petition: "The closure of any media … is an extremely serious act. It is a violation of democratic rights that have already suffered badly."
Repression in Algeria has intensified since Abdelmadjid Tebboune came to power in a 2019 election that was boycotted by millions of voters. There are now 200 or more "prisoners of opinion" behind bars, the vast majority connected to the Hirak movement. Activists have also reported forced disappearances of prominent members of the reform movement.
In June 2021, Kadi was sentenced to six months in prison after calling for the integration of followers of all ideologies, including Islamists, within the reform movement. He was spared jail on that occasion.
Kadi was initially held in the infamous El Harrach prison in Algiers in a crowded communal cell with about 60 others, including some accused of murder and other violent crimes, then moved to a smaller shared cell. The transfer to better accommodation was granted by a sympathetic senior official. The prison dates back to colonial times and is unheated, so extremely cold at night for all inmates.
Tin-Hinane el-Kadi said her father had suffered "unparalleled intimidation and harassment from the state" with his detention the culmination of years of intensifying pressure from the authorities against any dissent.
"It's a huge backlash. The regime has forced critics to make a choice: leave or go to jail," she said.