Diverse Watford one of growing number of 'rainbow' towns | Race
Watford is one of a number of growing "rainbow" towns and cities in England and Wales, places where ethnic diversity is on the rise and segregation is on the wane.
Using the latest census data, a team of international geographers formulated a "diversity index" that ranks places by the spread of different ethnic groups represented.
They found that neighbourhood diversity in Watford increased fourfold since 2001. Barking and Dagenham recorded a ninefold increase, and Boston in Lincolnshire saw a tenfold increase, albeit from a low base.
"It's true what the data says," said Raphaelle Follett, 39, a senior waitress at a Watford hotel, who was out with her daughter Chanaise Follett, 19, a music student.
"We've just been to the black hair shop down there. It's good they have that. [Other nearby towns like] St Albans and Hemel Hempstead don't have one," said Chanaise.
Raphaelle has lived in Watford for 18 years, moving just after Chanaise was born. "I've noticed there's a lot more different cultures since moving here which I appreciate."
"There's not much hate crime and I've never heard of anything really bad happening around here," said Chanaise.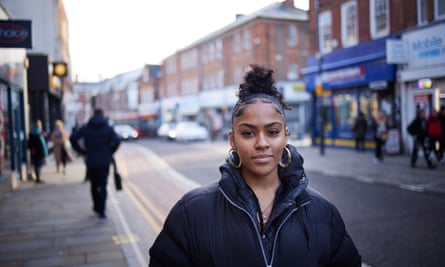 Raphaelle decided to send Chanaise to a secondary school in Watford. "It was predominantly black and Asian but there were a lot of white kids there too," she said. "It was good for her because she was able to identify with her culture."
She sent her two sons to a school outside Watford. "It's predominantly white and they say 'mummy, there's not many black people there', they might feel out of place."
The embrace of Watford's ethnic diversity is not universal. "Some people aren't as accommodating and don't embrace the cultural diversity. They make racist comments, saying 'it's full of this lot of people'. It doesn't come from people like us, it's coming from people who have maybe lived in Watford for 40 years. They're not seeing the positives of it," said Raphaelle.
Marie, 45, who declined to give her full name, said: "It's becoming more diverse, whether it's more accepting I don't know."
"You still get odd pockets of people who are not very embracing of other cultures. Rare, but it happens. Just last month I got called the n-word."
She has lived in Watford for 16 years. "I was the only black person in the block when I moved here and my neighbour below made me very aware of that fact." She said it is becoming more diverse. "Who knew I liked mint in my tea, but if you live next to a Moroccan person that's common," she said.
Amy Munn, 58, an accountant turned artist, has lived in the town for 17 years. "It's a good town to live in," she said. "I've noticed a lot more Chinese people, I think they've come from Hong Kong."
She said the town has "always been welcoming". "I don't feel there's a lot of animosity towards me if I'm walking around," she said. "I wouldn't have carried on living here if I wasn't happy here."
Watford is one of several Hertfordshire boroughs to rank highly on the "diversity index". Welwyn Hatfield ranks 61st overall while nearby Three Rivers sits at 63rd and Broxbourne at 66th.
"A lot of people have moved out of London to places like this," said Munn."I think everybody lives reasonably well together. There's all different races here and we all live peacefully."