Extinction Rebellion activists pour black paint outside Gove's office | Extinction Rebellion
Extinction Rebellion activists have chained themselves together at the entrance of the Department for Levelling Up, Housing and Communities in London to protest against a new coalmine in Cumbria approved by its secretary, Michael Gove.
As police hurried to block access to the doors, protesters lit smoke bombs and poured black water-soluble paint designed to resemble oil across the floor, while others danced around dressed in canary costumes outside the building on Marsham Street in Westminster on Wednesday.
Gove gave the green light last month to the UK's first new deep coalmine for 30 years, despite objections locally, across the UK and from around the world. The estimated £165m project is expected to produce 2.8m tonnes of coking coal a year, largely for steelmaking.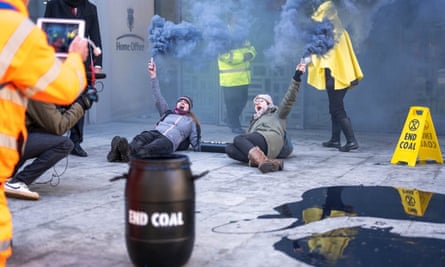 Sarah Hart, 41, from Farnborough, Hampshire, lay on the floor outside the main doors to the department, with her arm inside one end of a pipe stencilled with the message: "End coal".
"We're locked together with chains at the Department for Levelling Up due to Michael Gove's decision to license the new coalmine in Cumbria, which is completely unacceptable at a time when we should end all of the coal, oil and gas licensing," Hart said.
"I find it completely unacceptable that at a time like this government are still making these decisions, so we are here to say cut the ties to fossil fuels."
The protest comes weeks after Extinction Rebellion issued a press release declaring: "We quit", which some interpreted as an admission of defeat. Activists have pointed out the message applied only to actions that disrupt the public, and only temporarily, as they try to build support beyond their radical base for mass protests in April.
Meanwhile, the government is pressing ahead with moves to crack down on disruptive protests. On Monday, No 10 announced it would give police new powers to shut down protests before any disruption begins, as an amendment to the public order bill.
The Department for Levelling Up, Housing and Communities has been contacted for comment.