Flags and Wallies: Melbourne Park fans spark player anger at Australian Open | Australian Open 2023
Spectators at the Australian Open were in the spotlight on Thursday after separate incidents sparked player anger on the court at Melbourne Park.
In his second-round tie against France's Enzo Couacaud on Rod Laver Arena, Novak Djokovic complained to the chair umpire after appearing to be barracked by a supporter, one of several dressed in a "Where's Wally?" costume.
"Can we get this guy out?" he asked the umpire during the fourth set. "You know who it is. The guy is drunk out of his mind. From the first point he's been provoking. He's not here to watch tennis. He just wants to get in my head. You've heard him at least 10 times. I've heard him 50 times. Why don't you get the security guard and get him out of the stadium?"
The spectators were later seen being escorted out of the arena. The nine-time champion in Melbourne eventually eased through 6-1, 6-7 (5), 6-2, 6-0 but a hamstring injury continues to be a concern. "To be honest, it is not good at all. I will take it day to day," he said. "It was better last match, the feeling, than tonight. I hope I will be able to recover and be ready for a tough match next up."
Earlier in the day Russia's Andrey Rublev also complained to the chair umpire about spectators during his tie against Emil Ruusuvuori of Finland. Two ticket holders at the Kia Arena could be seen waving a Ukraine flag in the direction of the No 5 seed.
"The flag, for me, it's OK," Rublev told the umpire early in the second set during his 6-2, 6-4, 6-7 (2), 6-3 win. "But they are saying bad words to me."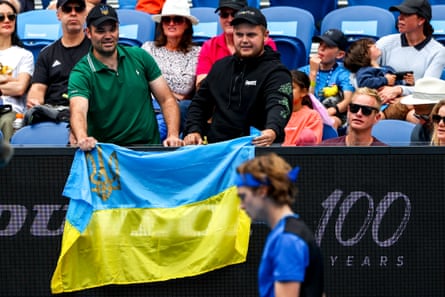 Rublev later told Associated Press: "It was not about the flag. I said straightaway to the referee, it's not about the flag, they can put any flag they want, I understand completely the situation. It was more that they started to tell me bad words and bad things. I said to the referee: 'It's not about the flag, but please can you tell them at least to not say bad words when I'm on the changeover.'"
Last Feburary Rublev wrote a "no war please" message on a courtside camera after beating Hubert Hurkacz at the Dubai Duty Free Championships. Russian flags were banned from Melbourne Park on Tuesday after fans waving one in the crowd provoked strong criticism from the Ukrainian ambassador.