Funeral of Greece's last king, Constantine II, takes place in Athens | Greece
He was a king without a crown, a monarch without a kingdom, for longer than most can remember. But for a few hours in Athens on Monday, Constantine II, the royal who reigned for barely three years before being forced into exile was king of the Hellenes again – or at least of thousands of his former subjects.
From a little before dawn, six days after his death was announced at the age of 82, Greek monarchists young and old, rich and poor, lined up patiently to pay their last respects.
They were not alone. From the royal house of Windsor to the royal houses of Denmark, Spain, Norway, the Netherlands, Sweden and Belgium they also came: kings and queens, princes and princesses, all crammed into the Metropolitan Cathedral of Athens, in a gathering that spoke to Constantine's ties with the historic thrones of Europe. His sister-in-law, Queen Margrethe II of Denmark; his sister, Sofia, former Queen of Spain; and his second cousin Princess Anne were among those attending the Greek Orthodox service conducted by the country's spiritual leader, the archbishop of Athens, Ieronymos II.
It was an assembly of royals not seen in Greece in decades, in a republic from which Constantine was – for his admirers at least – unceremoniously deposed almost 50 years ago.
"Immortal!" they cried amid rapturous applause and renditions of the national anthem as the motorcade of vans and limousines drew up at the cathedral. "Constantine, you will never die."
In a nation where memories of his initial support for the rightwing colonels' regime still run deep, the royal remained a deeply divisive figure.
The seizure of power by junior army officers on 21 April 1967 would throw the country into seven years of military dictatorship, a dark era in which leftist opponents were killed, tortured and banished to far-flung Aegean islands. An abortive counter-coup by the young monarch came too late, ending an episode in which he would be forever associated with self-interest and political meddling. Exile followed.
"It was terrible what happened to him," said Natalia Trypotou, a 13-year-old, who had been allowed to take the day off school to catch a glimpse with her relatives of the royal arrivals. "They stripped him of his citizenship, but when you are born Greek, you die Greek."
She had travelled from the capital's southern suburbs to take in scenes straight out of the pages of Hello!. Others had travelled from across Greece to bid farewell. Others still had travelled from the furthest corners of Europe.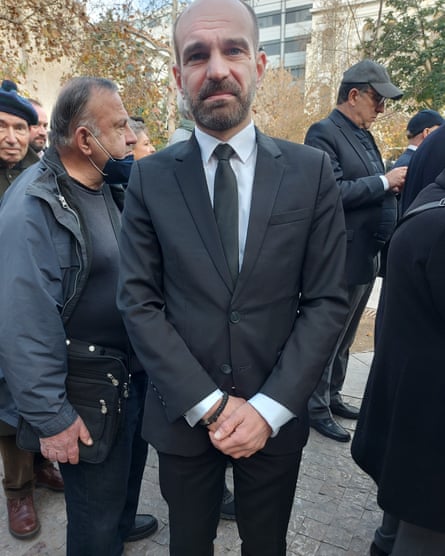 "I flew in from Germany just for this," said Spyros Lallos, a banker dressed in a black suit and matching black tie as he queued to bow his head before the flag-draped coffin of Constantine lying in state in a chapel next to the cathedral. "My family were Gastarbeiter [guest workers] Greeks and great royalists. My uncle, who was also called Constantine, had a portrait of the king in his home, and on their name day, he would festoon it with flowers. We all think he was very unfairly treated. He is part of our history and history cannot be erased."
Maria Koulouri, a septuagenarian who had risen at 5am to line up outside the chapel, agreed. "It wasn't right what they did to him," she said, posing with a Christmas card signed by the ex-monarch and his wife, Anne-Marie, who was born a Danish princess. "It wasn't right that they sent him into exile and took away his passport and denied us a king."
Koulouri, who admitted not telling her closest relatives that she had made her way to the church "because they'd never understand", was among the many who curtsied when, after several hours of waiting, she got to Constantine's coffin. Others patted the casket while others embraced it and wept as they kissed the icon that adorned it.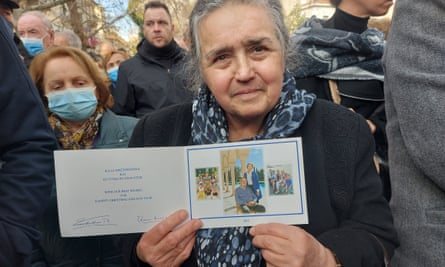 By 8am, police estimated that about 5,000 supporters had converged on the chapel.
From the outset, the funeral of the former king was a sensitive affair. Admirers had wanted an official send-off befitting a former head of state. Critics had railed against any such idea. Ultimately, the centre-right government ruled that in a presidential republic, the former monarch should be buried as a private citizen. His coffin was permitted to lie in state for five hours, from 6am, but neither the prime minister, Kyriakos Mitsotakis, nor any other party leader attended.
The decision of Greece's political class to stay away highlighted the enduring controversy that has surrounded Constantine.
Despite decades of exile spent mostly in London, it would not be until 2008 that Constantine would resettle in Greece, living a low-profile existence in a villa in the Peloponnese. For many, however, his return was tainted by his decision to take the Greek state to the European court of human rights in a battle over expropriated palaces and estates, one that would eventually end with him winning a fraction of what he had sought in compensation.
It was to the estate of Tatoi, outside Athens, that Constantine's coffin made its last journey on Monday. The former king had a final wish to be buried next to his parents, Paul and Federiki: a wish that the republic granted.
And so it was that a little after 3pm, his coffin carried aloft by his three sons and grandsons, that Constantine, the last king of the Hellenes, was taken to the spot that he is believed to have chosen and descended into the freshly dug Greek earth.