'I can kill you': how Met police officer terrorised women over two decades | UK news
A former girlfriend of the armed police officer David Carrick has told how he allegedly raped, strangled and threatened her, saying: "I can kill you without leaving any evidence."
Carrick, 48, reportedly used his status to intimidate and control her, restraining her with his police-issue handcuffs and boasting that he was a powerful man who guarded the prime minister. He coerced the woman into staying in the relationship by convincing her he would plant drugs in her car, saying: "Who are they going to believe?"
The woman, who cannot be named for legal reasons, told the Guardian about Carrick's year-long campaign of abuse as he pleaded guilty to 49 counts against 12 women.
She was interviewed by detectives from Hertfordshire constabulary but chose not to make a formal complaint because she did not want to relive her agony in court. Her testimony comes as Carrick's mother told the Guardian she reported a concern about him when he was a teenager after a serious allegation was made against him.
The woman met Carrick, who served with the parliamentary and diplomatic protection command, on Tinder . She found him charming initially, saying: "In the beginning he was a really nice guy. He was very chatty, very polite. I thought I had found the right person."
The couple went on romantic walks and holidays abroad and had dreams of buying a house together. "But then in front of people he started to put me down. He made me feel like an awful person," she said.
Carrick allegedly became more controlling and tried to take charge of the woman's finances and push her away from her family. "He did it in a nice way, [saying]: 'Your family are grown up, you need to let them live their life,'" she said. He also tracked her using the Find My Friends app on her iPhone without her knowledge and monitored her online activity.
If she was active on social media at night he demanded that she stop using her phone.
"He used to say: 'Who do you belong to? You belong to me.' He said many, many times: 'You have to obey me. You're here to serve me.'" The woman described Carrick as a sex addict and alcoholic who started drinking at 7am after returning home from night shifts guarding Westminster VIPs.
She said his three-bedroom terrace house in Stevenage, Hertfordshire, was full of pornography and he became obsessed with emulating violent sexual acts. She said he would often text her pornographic videos while on duty, and if she said she was not interested he would send her "sad face" selfies.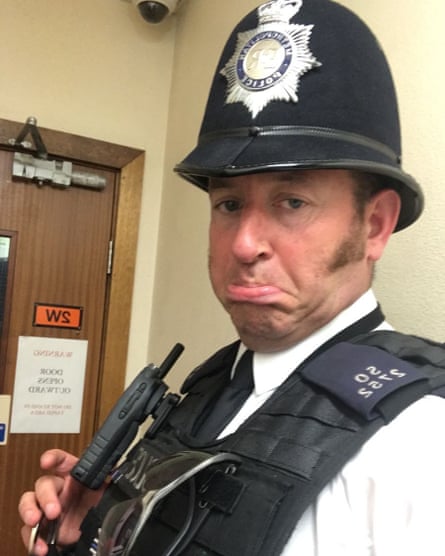 "Sex became really violent," the woman said. "He wanted me to be the same as a prostitute but I didn't want to do this kind of stuff. It was weird, crazy stuff and I didn't accept it and that's when the fights started."
She alleges that Carrick would become violent if she refused, kicking her out of bed and strangling her. She recalled a harrowing experience on holiday in which he tried to force her to drink his urine. "We had a really bad fight because he wanted me to do that," she said. Fighting back tears, she added: "One time he made me do it. We were having a shower together. You say no and he forces you. He forces you. You want to get away from that situation but you can't. It's awful."
She accused Carrick of raping her on more than one occasion, saying: "I would say no and then wake up with him on top of me … He's not a normal person – but he used to call me frigid."
Carrick also restrained her using his police-issue handcuffs, sometimes lashing her wrist to her ankle and leaving her immobile. She recalled once being handcuffed at his home for hours after he claimed to have lost the key. "I started crying, saying I was going to call my family and he said he had to go to his base in central London to get the key."
Carrick would often apologise for his behaviour while blaming the woman. "I didn't know how to get out of this situation because he's abusive [and] he does bad stuff, but at the same time he says: 'Sorry, but you made me do that'," she said. "It took me a while to realise this was an abusive relationship."
When she did try to leave him, she said Carrick used his position as an armed officer to frighten her. "He told me: 'I look after the prime minister so you better behave yourself. I am a powerful man. Look at the kind of job I do,'" she said. "One time he said to me: 'I can kill you. I can kill you without leaving any evidence because I work in the police."'
The woman said she ended the relationship a year later after Carrick handcuffed her before throwing her outside naked in the middle of the night. Carrick then blackmailed the woman in an attempt to make her stay with him, she claimed. "He told me: 'I'll put drugs in your car and call the police. Who are they going to believe?'" But she told Carrick she was going to report him to the police and he eventually stopped harassing her.
"He made me feel very small," the woman said. "I blame myself. Why did I let him do this? Why did I let him talk to me like that? I should've straight away gone to the police but I thought, what if he does what he says, what if he kills me?"
Detectives from Hertfordshire constabulary interviewed the woman as part of their investigation but she said she began having flashbacks and anxiety attacks so decided not to make a formal complaint. She was also afraid Carrick would not get a long custodial sentence and was worried about any repercussions.
Her account bears striking similarities to the testimonies of other women whom Carrick admitted abusing over a 17-year period. Hertfordshire constabulary confirmed they interviewed the woman and that it was her decision not to participate in the case.
At a press briefing, DCI Iain Moor, from the Bedfordshire, Cambridgeshire and Hertfordshire major crime unit, acknowledged there may be more victims. "Despite best efforts, there may be even more people who have fallen victim to Carrick and who haven't yet made themselves known," he said.
Born in Salisbury, Wiltshire, in January 1975, Carrick is the son of a Royal Artillery veteran and a cleaner. His parents married in 1974 and lived in Bulford Camp, an army base, before moving to the village of Durrington, near Amesbury, after his younger sister was born.
Carrick attended Durrington comprehensive school where he was known for his love of martial arts – he achieved a black belt in Taekwondo – and skateboarding. His parents separated when he was a teenager and his mother, Jean, started a relationship with another man who moved into the family home. The couple had a son, now 32, and daughter, now 29.
Speaking from her home in Salisbury, Jean told the Guardian that Carrick enjoyed family holidays in Spain and going on French exchange trips. She described him as "normal-ish" growing up, saying he did "fairly well" at school where he had many girlfriends. "He used to bring them home when we lived in Durrington. There were so many of them I didn't bother asking about them in the end. He used to change them quite often," she said.
Jean said she raised a concern about him when he was a teenager after a serious allegation was made against him.
"After that, he changed," Jean said. "He just sort of kept himself to himself and away from the family. And that's when I had my two other children. I didn't know this until recently, but my other son told me: 'He's a horrible man. He used to kick me on the back of the legs.'"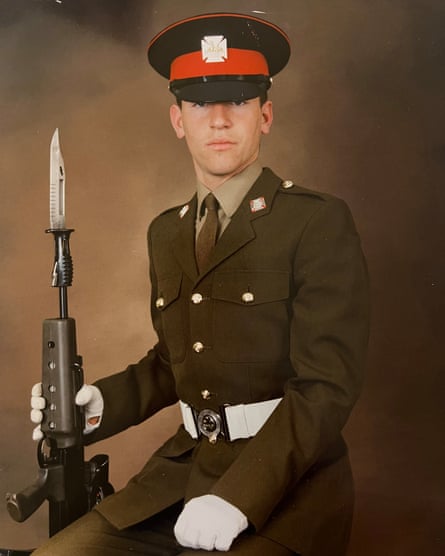 After leaving home, Carrick worked in the local Co-op supermarket before joining the army, aged 19. Jean said he served in the Royal Gloucestershire, Berkshire and Wiltshire regiment – which he dubbed the "Great Big Willy Regiment" – and went on tours to Cyprus and the Falkland Islands in 1996. The Met said he served with the Royal Logistics corps from 1996-97. Jean said: "He always wanted to join the army. I think he wanted to travel around. It could also be because he wanted to carry a weapon," Jean said.
Carrick joined the Metropolitan police in 2001, serving in Merton until 2005 and then Barnet. In 2009, he was promoted to the parliamentary and diplomatic protection command, an elite unit that guards embassies, Downing Street and the Houses of Parliament. Jean said her son cut off all contact with her about 15 years ago. "He just didn't like my other kids. Maybe it's jealousy or something, or maybe he blamed me for the break-up of our marriage," she said.
Recalling their last encounter, Jean told how Carrick took her out for breakfast before becoming angry that his half-brother was "giving her grief" on the phone. "He took the phone off me and started shouting at my son. He said: 'I'm Mr Plod. I'm a policeman so don't fuck me around.' He then ran out and I never saw him after that."
She said the allegations have devastated her. "He's still my boy, still my son," she said. "I just don't know why he's done it. You know, when he was doing well, and now he's lost everything. He's going to lose a lot – the Met police, everything."
Her partner of 18 years, Ernest Steele, 67, said: "The worst thing about it is that he had that kind of authority as a police officer and he abused that."
Carrick's former childhood best friend revealed that he fell out with Carrick because he exploited his position to intimidate people and "treated women like crap". The 47-year-old, who went to school with Carrick, said: "When we were younger I thought he was a cool lad. A lot of people liked him. He was one of those lads who was good at everything – I think he had good grades and he was very much a sports person. He was very popular with the women, he was a good-looking lad, he was a fit lad."
The pair reconnected in 2008, a year after Carrick bought a £160,000 two-storey house in Stevenage where he kept two pet snakes. "Quite quickly, I saw things I didn't like. He drank a lot and he was out of control. He could be quite nasty," said the man, who did not want to be named.
"He would use his being in the police and he would use his power to get his way. He would start arguments and then say he's in the police and throw his weight around a little bit too much. So I used to say to him: 'Look, Dave, you can't be doing that, you're a police officer.'" He said he also recalled Carrick flashing his warrant card at least three times to intimidate people he started fights with.
He said Carrick told him he joined the armed unit because he missed having a weapon and he "wanted a bit of authority". The friend said he was also put off by Carrick's treatment of women. "I experienced him treating women like crap more than once," he said. "He's a power freak. He has a few drinks and I don't think he treats women with any respect. They're just nothing to him."
He said he cut off contact with him after Carrick propositioned his then wife. "He tried it on with my ex-wife, which didn't surprise me. It's like when I found out what he was accused of, it didn't surprise me at all," he said. "He is a dangerous person. I know he could hurt someone if he really wanted to. He was capable of it at school. I saw him having a fight at school and that person didn't stand a chance."
Carrick's neighbours in Stevenage also say they saw his violent side. One resident, who did not want to be named, said she recalled seeing Carrick throttling a woman in September 2019 before another neighbour called the police. She said: "The front door was wide open and he had no clothes on and he had a woman by the throat. She was hysterical, the whole street could hear. She was trying to escape."
Hertfordshire constabulary confirmed they attended the incident but said no further action was taken because neither party wanted to make a complaint. The neighbour said Carrick would always be seen with different women, adding: "But when he went out it was like they were trying to get away from him."
Carrick's friend said he was shocked he was able to carry out almost two decades of abuse while maintaining a position of power. "I just don't know how the police missed all this. I used to say to David: 'How did you become a police officer, and how did he you get to where you are, and still act the way you're doing?' And he would just smile."