In from the cold? Australia and China eye first meeting of trade ministers in more than three years | Australian foreign policy
Australia and China are in discussions about arranging a virtual meeting between the trade minister, Don Farrell, and his Chinese counterpart, Wang Wentao, in the coming weeks.
This would be the first conversation between an Australian trade minister and a Chinese commerce minister in more than three years, in the latest sign of efforts to "stabilise" the turbulent relationship with Australia's largest trading partner.
There has been growing speculation that Farrell may visit China as early as February to continue to pursue Australia's case that trade "blockages" – including hefty tariffs on Australian wine and barley – should be removed.
But it would be standard diplomatic protocol for a call or virtual meeting to lay the groundwork for a physical meeting.
Guardian Australia has been told talks between Australian and Chinese officials about setting up a virtual meeting are progressing.
No date has yet been set but it could occur in the next few weeks, as a prelude to an in-person meeting. The ABC was first to report the possibility of a virtual meeting.
In another sign of the uptick in dialogue, Australia's assistant trade minister, Tim Ayres, was due to meet with China's vice-minister of commerce, Wang Shouwen, on the sidelines of the World Economic Forum in Davos on Thursday evening Australian time.
Guardian Australia understands Chinese officials have watched with interest after Farrell's repeated public declarations that he is willing to meet his counterpart at any place or time to discuss their trade differences.
China is likely to push for Australia to drop or suspend its World Trade Organization challenges against Beijing's prohibitive tariffs on wine and barley, but Canberra is not believed to be ready to do that.
At the height of diplomatic tensions between China and Australia in 2020, Beijing blocked phone calls and meetings between Australian government ministers and their direct counterparts in the wake of the Morrison government's early push for a Covid origins inquiry.
The Morrison government accused Beijing of engaging in "economic coercion" by rolling out tariffs or unofficial bans on a range of Australian exports, including wine, barley, red meat, lobsters and coal.
Former Coalition trade ministers Simon Birmingham and Dan Tehan were rebuffed in their attempts to hold direct talks with China's commerce minister. Chinese officials argued the Australian government must first take steps "to arrest the decline of the bilateral relationship" and create a better mood for talks.
Farrell, however, received a congratulatory letter from Wang shortly after being appointed as trade minister and responded to that correspondence. Officials are now in serious talks about arranging meetings.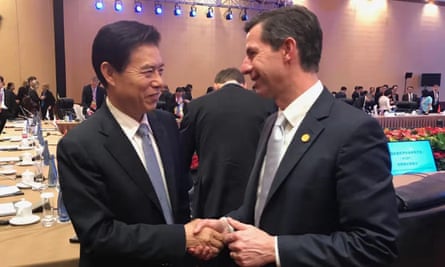 The Albanese government maintains that it has not given ground on Australia's national interests or policy positions, but it has pursued a deliberate effort to engage in dialogue to try to get the relationship on a better footing.
The government acknowledges stark differences will endure between the two countries, but believes these differences should be managed "wisely".
China's ambassador to Australia, Xiao Qian, revealed last week that Chinese and Australian negotiators at the WTO in Geneva were in talks about trying to resolve their trade disputes.
Ahead of expected rulings this year in the wine and barley cases, Xiao told reporters that both countries' representatives in Geneva were "in touch with each other" to "talk about the possibility of dropping multilateral" challenges.
Xiao suggested that it would be "much easier" to solve the disputes bilaterally instead of with lengthy multilateral processes. He said it would be a "good idea" if the Australian side was "ready to forget about" a WTO solution "and come back to a bilateral solution".
After reports China was considering lifting its restrictions on coal imports from Australia from April, Xiao also expressed hope for an overall improvement in the trading relationship in 2023.
Farrell said on Wednesday he had "made it very clear right from the day I took over this job seven months ago that we would much prefer to sort out our disagreements with China through discussion and not having to take this arbitration through the World Trade Organization".
"I would be confident that based on the terrific work that our officials have done on this case, that [Australia] will be successful in both of those [WTO] applications," Farrell told ABC Adelaide on Wednesday.
"But, again, I say, particularly to the Chinese government, it's much better if we sort these things out by discussion, and we certainly haven't ruled out further discussions, but we're not going to withdraw our applications until such time as we get a clear indication from the Chinese."
The latest step-up in dialogue follows a meeting between the prime minister, Anthony Albanese, and China's president, Xi Jinping, on the sidelines of the G20 summit in November.
Australia's defence minister, Richard Marles, and foreign affairs minister, Penny Wong, have also met with their counterparts multiple times.
On Thursday Wong issued a statement to mark the fourth anniversary of China's detention of the Australian writer Dr Yang Jun, whose verdict after a closed trial over national security accusations has been delayed several times.
She said the Australian government was "deeply troubled by the ongoing delays in his case" and would "continue to advocate for Dr Yang's interests and wellbeing at the highest levels".