Julian Sands: helicopter search under way for missing actor | California
The search for British actor Julian Sands continues nearly a week after he was reported missing while hiking in a treacherous area of California's San Gabriel Mountains, where at least two other hikers have already perished this winter.
The search for the 65-year-old actor is currently being conducted "via helicopter only", the San Bernardino county sheriff's department said Friday afternoon, because the risk of avalanches around Mt Baldy has continued to make on-the-ground rescue efforts too dangerous.
There is currently no timeline for ending the search for Sands, department spokesperson Gloria Huerta said on Friday.
The Mt Baldy bowl area where Sands was hiking has been a deadly one this winter, with at least two hikers killed in the area after falling and injuring themselves in the past month, according to the sheriff's department.
One of the two hikers who died, identified by local media as Crystal Paula Gonzalez, was an experienced hiker, known to family and friends as "the hiking queen," CBS News Los Angeles reported. Authorities said that Gonzalez, who had previously summited Mt Whitney, one of the highest peaks in the United States, slipped and fell more than 500ft while hiking on 8 January, and died of her injuries on the mountain.
Search and rescue teams have responded to more than two dozen different incidents of lost or injured hikers in the Mt Baldy area over the past month, with authorities this week warning even experienced hikers to stay away from the mountain during "extremely dangerous" conditions.
Sands, an avid hiker and longtime resident of the Los Angeles area, was reported missing around 7.30pm last Friday. Pings from his cell phone logged in subsequent days only showed his movements on 13 January, the sheriff's department said late Friday.
Initial ground and helicopter searches of one of his possible locations that day did not locate any evidence of Sands, the department said. Further analysis of Sands' cell phone location data is ongoing, but, "Thus far, no workable leads have been developed", the department said.
At this point, there is no data that indicates Sands' whereabouts after Friday, the day he was reported missing, Huerta said. His vehicle was located in the Mt Baldy area, and has been towed by his family, she said.
"Additional air searches will be conducted," the department said.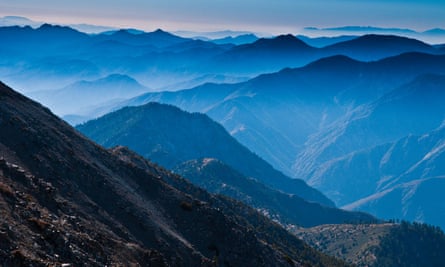 As California has been buffeted by winter storms, weather conditions in the mountain have inhibited attempts to assist missing and injured hikers, including Sands. Rescue crews looking for Sands on the ground had to be pulled off the mountain on Saturday night because of the dangerous weather. Weather conditions also inhibited the efforts to evacuate Gonzalez, the injured hiker, off the mountain to a hospital, a medic told CBS News Los Angeles. She left behind five children, the news outlet reported.
More than 21 people have died across California in the storms of the past few weeks, and others, including a five-year-old boy swept away in flood waters, remain missing.
Sands, who is known for his roles in The Killing Fields, A Room with a View, and Naked Lunch, has lived in the Los Angeles area for years with his wife, the writer Eugenia Citkowitz, with whom he has a son. He also has two daughters with former Evening Standard and BBC Radio 4 Today program editor Sarah Sands, to whom he was married from 1984 to 1987.
Other Hollywood actors, writers and producers, have posted their prayers for Sands and his family on social media, praising him as an inspiration and a friend.
"Keep candles burning for his safe return from the mountain he loves," actor Matthew Modine wrote on Twitter.