Kaylea Titford: obese girl's body found in dirt and squalor, jury hears | UK news
A 16-year-old girl who died from complications of obesity was surrounded by food wrappers and had a dirty deep-fat fryer in her bedroom when her body was found, a court has heard.
Kaylea Titford from Newtown in Powys, Wales, was 146kg (22st 13lbs) when she died on 9 or 10 October 2020. She was born with spina bifida, a spine condition that meant she could not use her legs, and had hydrocephalus, a buildup of fluid in the brain.
Her father, Alun Titford, 45, is on trial at Mold crown court for manslaughter on the basis of gross negligence. His partner, Kaylea's mother, Sarah Lloyd-Jones, has already pleaded guilty to the same charge.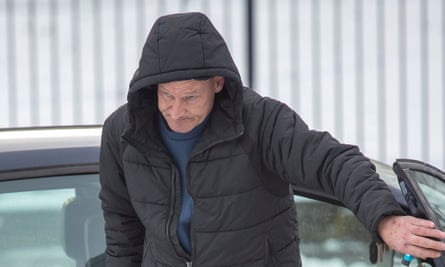 The prosecution argue that the state of Kaylea's dirty and cluttered bedroom, and her physical deterioration and severe obesity, demonstrate a serious breach of the couple's parental duties. Kaylea's neglect was "hidden from the scrutiny of the outside world" because of successive Covid lockdowns that kept her out of school, the court has heard.
On Thursday the jury heard evidence from paramedics and police officers who were called to the family home on the morning of 10 October. When the first ambulance arrived at 8.10am, Kaylea was already dead, still sitting up in bed. She was last seen alive at 11pm the previous evening, family members said.
Katie Griepher, a paramedic, described the filth and detritus surrounding Kaylea. Her ground-floor bedroom was "unclean and unkempt", she said in a statement read to the jury. An old kitchen appliance was in the room, on top of which sat a chip fat fryer "with fat dripping down the sides".
There were also old food cartons and packaging from McDonald's, as well as "crisps and pop and other junk food", Griepher said.
Her colleague, Maggie Lloyd, said in her statement that she noticed a large madeira cake in a box, as well as piles of stuff covering Kaylea's wheelchair.
The court heard that after discovering Kaylea's body, instead of dialling 999, Titford rang his mother, Kaylea's grandmother. She was at her own home and rang the emergency services from there.
Gareth Wyn-Evans, the first paramedic on the scene, described the "horrific" smell coming from Kaylea's legs, which were wrapped in absorbent "puppy pads". "It made me retch," he told the jury. "It was a smell I had never smelled before."
PC Liam Donovan said it was the only time in 14 years as a police officer that he thought he was going to be physically sick.
When the undertakers arrived to take Kaylea's body away, the officer noticed several maggots on her mattress, the jury heard. Donovan also observed that the electric hoist above Kaylea's bed looked as though it had not been used in some time. It was switched off at the mains and was covered in cobwebs and what he thought was fly faeces, he said.
The jury was shown footage captured on the police officer's body-worn camera, which showed the cluttered and dirty bedroom.
A pathologist recorded Kaylea's case of death as "inflammation and infection in extensive areas of ulceration arising from obesity and its complications, and immobility in a girl with spina bifida and hydrocephalus".
The case continues.