Labor overturns Morrison-era ban on public servants working Australia Day | Australia Day
The Albanese government has reversed a short-lived Morrison-era restriction on flexibility for government workers taking public holidays, allowing public servants to work on 26 January if they don't wish to observe the Australia Day public holiday.
The minister for the public service, Katy Gallagher, downplayed the move and said it simply reverted the situation to exactly how workplaces operated on 26 January last year.
But the Coalition has accused the government of an attempt to "deliberately undermine" Australia Day, calling on the prime minister to reverse the decision and encourage public servants to take the day off.
Gallagher confirmed on Wednesday that the Labor government would allow public service workers to substitute the Australia Day public holiday for another day if employees did not choose to take 26 January off work.
Prior to 2022, this had already been an option for the public service, with the Community and Public Sector Union saying there had been longstanding entitlements in many government departments for workers to substitute official public holidays for religious or cultural reasons.
Gallagher told ABC Radio that the former Coalition government had changed those rules just prior to entering caretaker mode ahead of the May 2022 election. That rule would have applied to future enterprise bargaining agreements.
"What's happening this year is the same as what's happened in years past," she said.
The prime minister, Anthony Albanese, said it was "a matter between employers and their employees for discussion".
"I understand that happens in the public service across a range of public holidays, in part due to the nature of the public service," he told a press conference on Wednesday.
"One of the things that happens is public servants work on Christmas Day. They work on all sorts of days when others are able to put their feet up."
Gallagher called Australia Day a "great day" but noted some people may want to substitute the holiday "for whatever reason".
"It may be their feelings about that day, it may be they need to work and their partner is caring for family or whatever, people have a whole range of reasons," she said.
"People have different views about [Australia Day], and people are entitled to hold those views… people can choose how they participate in that day but I'd certainly say people are more aware of how it affects First Nations people and are more respectful of that."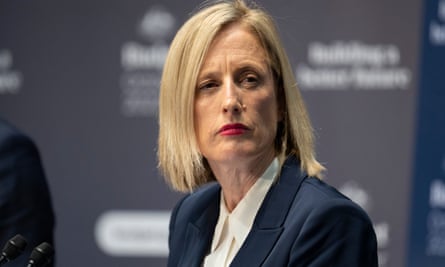 A spokesperson for the Australian Public Service Commission said the change hadn't actually come into effect yet.
"The policy change in early 2022 only applied to new enterprise agreements yet to be negotiated. No such enterprise agreements were subsequently made," the spokesperson said.
The CSPU national secretary, Melissa Donnelly, said the previous policy had long allowed flexibility in marking holidays.
"There are longstanding practices in a range of agencies, such as Home Affairs and the ATO, that already allow for the substitution of any public holiday for a variety of cultural and religious reasons," she said.
"If APS employees would like to observe the January 26th public holiday on a different day, they should raise it with their supervisor."
Liberal senator Jane Hume, the shadow minister for the public service, was critical of the government's decision.
"Why would Anthony Albanese and Labor deliberately undermine Australia's national day by telling the Australian Public Service it doesn't matter?" she said in a statement.
"If Anthony Albanese really meant what he said about keeping Australia Day on January 26 he should reverse the decision today."
Gallagher's reversion to previous rules around holidays comes weeks after the government removed rules obliging local councils to hold citizenship ceremonies on 26 January. That move was also criticised by the Coalition, who had stripped several Melbourne councils of citizenship powers after they declined to hold ceremonies on that day.
It comes as numerous large employers also give staff further flexibility in choosing to mark the holiday or substitute it for another day off. The University of Wollongong said this month it would give staff the option to work 26 January, citing the painful associations it may have for Indigenous communities.
Telstra, Woodside, BHP, Australian Ethical superannuation, Deloitte, KPMG and Ernst & Young are among other employers offering similar flexibility.