Levelling up fails to make people think local areas are improving, poll finds – UK politics live | UK news
Key events
Leo Varadkar admits regrets over Northern Ireland protocol
Ireland's taoiseach, Leo Varadkar, has said he regrets that the Northern Ireland protocol he agreed with Boris Johnson to end a Brexit impasse was signed without the agreement of unionists and nationalists, my colleagues Matthew Weaver and Lisa O'Carroll report.
Teaching unions to hold six hours of talks with officials in bid to avert strikes
Education unions are meeting government officials for a marathon six-hour round of talks in a bid to avert teacher walkouts in the coming weeks, PA Media reports. PA says:
Friday's meeting comes after union leaders said there had been "no progress" after discussions with education secretary Gillian Keegan on Wednesday.

The National Education Union (NEU) plans seven days of strike action in England and Wales in a dispute over pay – with the first on 1 February coinciding with walkouts by staff at universities, on the rail network and in Whitehall.

The union has said strike action could affect more than 23,000 schools.

The planned length of Friday's meeting was described as a "step forward" by Geoff Barton, general secretary of the Association of School and College Leaders (ASCL).

ASCL is not part of strike action, but Barton, who said he will be at the talks, said there is anger among his members over a range of issues, including education funding and problems with recruitment and retention as well as pay.

Schools minister Nick Gibb said the government understands the pressures facing teachers and is willing to negotiate, but warned against "inflation-busting pay settlements".

He told BBC Breakfast: "Officials in the department today are spending six hours with the four unions discussing the issues that we discussed on Wednesday, and the secretary of state said they could start discussing issues like pay but also other issues such as workload and the conditions of teachers in schools.

"So you know, we do understand the pressures that teachers are under."
NHS ambulance workers announce fresh strike dates as pay row escalates
Ambulance workers have announced a series of fresh strikes including one next month that was already predicted to be the biggest day of stoppages in NHS history, my colleagues Matthew Weaver and Anna Bawden report.
Good morning. "Are you better off than you were four years ago?" That is one of the most powerful questions in electoral politics, made famous when Ronald Reagan asked it in 1980 and now increasing being used by the Labour party. It was also, in part, the inspiration behind Boris Johnson's levelling up campaign. When Johnson won his surprise near-landslide in 2019, taking seats in deprived areas that had voted Labour for decades, Tories admitted that if they were going to hold these constituencies, then by the time of the next elections voters would have to be feeling that jobs were picking up, the high street was smarter, the place was getting better.
But they don't. Last night YouGov published devastating polling for the government showing that levelling up has failed to make people feel their community is getting better and that there is almost nowhere where voters think their local area is improving.
Polls showing people unhappy about the state of the country come out almost daily nowdays. But this one is different because it involves data from more than 100,000 between August and October last year, and it uses multilevel regression and poststratification (MRP – a data analytical technique) to produce results on a local authority by local authority basis. Here are the key findings.
Overall there is almost nowhere in Britain where people generally think their local area has improved in recent years, the poll suggests. In most council areas (215) the most common response was for people to stay conditions had stayed about the same. And in 142 council areas the most common response was for people to say the area had declined.
There are only four council areas where people were most likely to say they felt their local areas had improved in recent years, the poll suggests. They are all in London: Hackney, Islington, Southwark, and Tower Hamlets.
People living in areas given top priority in the first round of awards from the levelling up fund were more likely to say their areas had got worse in recent years than people in tier two priority areas, or in areas that did not get any funding at all, the poll suggests. Round one levelling up funding was announced in autumn 2021.
The YouGov report on the figures are here. And here is the most useful chart.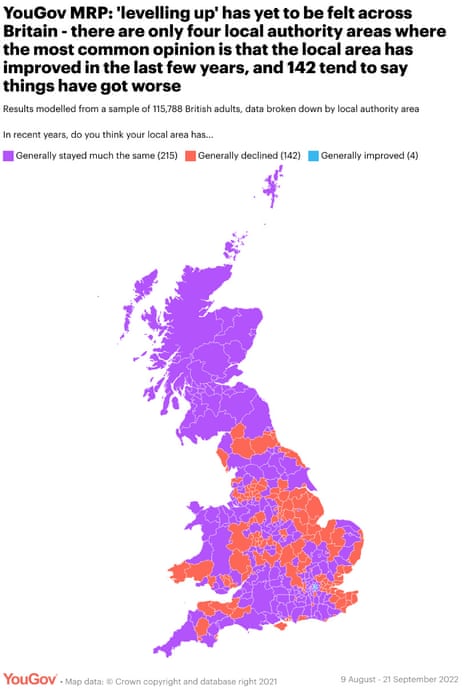 If you had to put a postive gloss on this for the Tories, you could point out that these figures are now a few months out of date. You could say they might just reflect a general despondency about the state of the country, caused by the cost of living crisis. And you could say that, in people living in places getting levelling up money are more pessimistic than average about what is happening to their area, that might just be because levelling up money is going to places that are particularly deprived.
But, still, it is hard not to read the poll as compelling evidence that, in political/electoral terms at least, levelling up is failing.
As we report in our splash today, yesterday's announcement of the second round of levelling up awards also prompted criticism. A Guardian analysis found that Tory seats have been awarded significantly more money from the fund than areas with similar levels of deprivation.
Here is the agenda for the day.
9.30am: MPs start debating backbench bills.
11.30am: Downing Street holds a lobby briefing.
1pm: Keir Starmer takes part in a panel discussion at the World Economic Forum at Davos.
I'll try to monitor the comments below the line (BTL) but it is impossible to read them all. If you have a direct question, do include "Andrew" in it somewhere and I'm more likely to find it. I do try to answer questions, and if they are of general interest I will post the question and reply above the line (ATL), although I can't promise to do this for everyone.
If you want to attract my attention quickly, it is probably better to use Twitter. I'm on @AndrewSparrow.
Alternatively, you can email me at andrew.sparrow@theguardian.com