Millions of UK mobile and broadband users face 14% bill rises from April | Mobile phones
As if household budgets were not already under enough pressure, millions of broadband and mobile phone customers look set to face rises of their more than 14% in their monthly bills from April.
BT, TalkTalk, Three and Vodafone are among the big telecoms suppliers that are contractually allowed to increase their bills in line with the previous year's inflation rate, as measured by the consumer prices index (CPI) in December – plus a further 3%-3.9% on top.
If the increases are passed on in full, as many experts expect, it would result in home broadband customers typically paying about £50 a year more, while mobile phone customers on expensive contracts could face rises of more than £100.
On Wednesday the Office for National Statistics said the CPI rate fell back slightly to 10.5%. It means there is nothing to stop the telecoms providers from increasing bills by 13%-14.4%.
Ernest Doku, a telecoms expert at Uswitch.com, said millions of mobile and broadband customers would now know the scale of the bill increases they were likely to face this spring. Only those on social tariffs look set to be spared the increases.
He said BT, EE, Plusnet and Vodafone broadband contracts allowed prices to go up by CPI plus 3.9%. At TalkTalk, it was CPI plus 3.7%, while Shell Energy can add CPI plus 3%. Sky and Virgin Media contracts both allow mid-contract price increases, but they do not stipulate a pricing formula in the same way as rivals.
Although suppliers could surprise customers and withhold part of the increase, consumers can start looking forward to a flurry of announcements before April.
Companies have to give customers 30 days' notice of price increases, but have so far been tight-lipped as to whether bills will rise by the maximum.
Consumer groups are calling on households who are out of contract to use this as a catalyst to move to a new deal.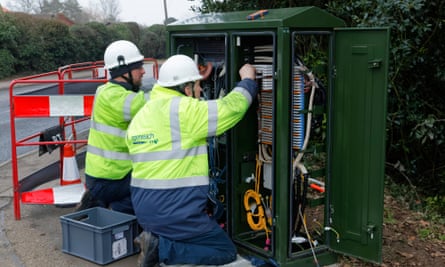 Uswitch said broadband customers could save £162 a year on average by switching to a new provider, while hagglers typically saved more than £85 a year, according to the consumer group Which?
A recent MoneySavingExpert poll revealed a success rate of more than 75% when haggling with TalkTalk, Virgin and Sky, plus "high success rates" at other broadband providers.
The UK's communications regulator, Ofcom, is already facing calls to reduce the amount that Openreach can charge suppliers for wholesale broadband lines that in turn is passed on to customers.
"There is still time for Ofcom to act and reduce the wholesale price increases that lead to these price rises. These are exceptional circumstances, and families and businesses across the UK need the regulator to act," said a TalkTalk spokesperson. They added that the formula was agreed in 2021 when inflation was running at 1.5%.
An Ofcom spokesperson said: "Our rules are clear: everyone must be told upfront about any future price rises before they sign up, and we're investigating whether phone and broadband firms are sticking to this."
They added: "We're also concerned about the transparency of inflation-linked price rises in contracts, and how well they are understood. We're examining this issue to ensure customers' interests are protected."