Nepal plane crash: last moments inside cabin caught on passenger's Facebook live video | Nepal
In the moments before Nepal's deadliest air crash in decades on Sunday, four friends from India who were onboard began excitedly recording the descent on a Facebook live video.
They were heading to Pokhara for the trip of a lifetime, visiting temples and paragliding in Nepal's famed Annapurna mountain range. "It's really fun," one of the men can be heard on the video surveying the city below as the plane began its descent. The friends can be heard laughing and joking as the camera is turned on a smiling Sonu Jaiswal, a 29-year-old father-of-three, who ran a small business back home in India.
All appears calm in the plane, with no emergency announcements or warnings from the pilot or staff. But suddenly, the plane appears to veer off with a loud roar, and the sounds of it crashing to the ground are captured on the phone camera, before the screen is filled with flames. The burning debris of the aircraft is momentarily visible on the screen before it goes black. No voices can be heard after that.
The harrowing video indicates that the 68 passengers and four staff onboard the Yeti Airlines flight had no idea the plane was in danger before an explosion just as it was landing.
Vishal Koswal, 21, a close friend of the four men heard in the video, confirmed the authenticity of the video.
He identified the four men, all from Ghazipur district in the state of Uttar Pradesh, as 29-year-old Jaiswal, 28-year-old Anil Rajbhar, 23-year-old Vishal Sharma and Abhishek Singh Kushwaha, 23, who had left for Nepal on 12 January. Local police also confirmed their identities.
Koswal said he had meant to join his four friends on the trip to Nepal but had to stay home after a the death of a relative. During their trip, he had spoken to them many times over video call, including a couple of hours before the crash.
"Sonu was showing us the mountains around on the call and was clearly excited, so were we," said Koswal. "He told me on that call that after landing in Pokhara, they would visit some temples there and then in the evening take a train back home."
He described the four friends as like "brothers" and said everyone in the area was "very emotional". "This all seems like a nightmare, I still cannot believe we have lost all of them," he added. "I can't watch that crash video again, it is very hard and painful. A big tragedy has fallen over us."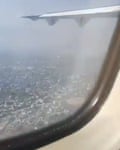 On Monday, rescuers continued the search to recover the final four bodies from the wreckage. There was no hope for survivors, said the authorities. The prime minister of Nepal declared a national day of mourning on Monday.
The group of friends from India were among 15 foreign nationals who were onboard the plane. The flight was carrying 57 Nepalis, five Indians, four Russians, two South Koreans, and one person each from Argentina, Ireland, Australia and France. It plunged into a gorge moments before it was due to land at Pokhara's new international airport.
It was Nepal's worst aviation disaster since 1992, when 167 people died onboard a Pakistan International Airlines flight that crashed on approach to Kathmandu.
The fire and thick smoke, as well as the treacherous terrain, made the rescue efforts by police and army officers challenging. Soldiers used ropes and stretchers to retrieve bodies from the 300-metre (1,000ft) deep ravine late into the night on Sunday. "We have so far sent 63 bodies to the hospital," said police officer AK Chhetri on Monday.
Arun Tamu, 44, who was about 500 metres away from the site where the plane crashed, told AFP news agency he was among those who ran to the site to try to help. "A few of us rushed to see if we can rescue anybody. I saw at least two women were breathing. The fire was getting very intense and it made it difficult for us to approach closer," he said.
Nepal's air industry has boomed in recent years, carrying goods and people between hard-to-reach areas, as well as foreign trekkers and climbers. But it has also been plagued by poor safety due to insufficient training and maintenance. In May 2022, all 22 people onboard a plane operated by Nepali carrier Tara Air died when it crashed, and in March 2018, 51 people died when a US-Bangla Airlines plane crashed near Kathmandu.
The European Union has banned all Nepal airlines from its airspace over safety concerns.