'Obi understands': young Nigerians swell support of presidential hopeful | Nigeria
At a recent campaign stop, Peter Obi responded to a regular criticism. Bola Tinubu, a rival candidate in next month's presidential elections in Nigeria, had called him stingy. Obi told a crowd of supporters that yes, he has been stingy with public funds, and that made him a better fit for the country's top job.
Nigerians go to the polls on 25 February to choose a replacement for Muhammadu Buhari, whose eight-year rule has been sharply criticised for failing to get to grips with rampant insecurity and a cost of living crisis.
A former state governor running for the Labour party, Obi is the first third-party candidate to present a real challenge to the dominance of the ruling All Progressives Congress (APC) and its main opposition, the People's Democratic Party (PDP), since the end of military dictatorship in 1999.
The 61-year-old has appealed to younger voters with a message that he is different from his old-guard rivals and wants to bring real change to Nigeria.
Weyimi Lube, a voiceover artist, had just turned 24 when terrorists struck a Catholic church in the southern city of Owo in June last year, killing at least 40 worshippers. She said the trauma of the attack pushed her into Obi's camp.
"I told myself if we don't push hard for Obi, I don't think there will be a Nigeria in the future for me and the people I care about," Lube said.
Analysts say some younger people have turned towards Obi out of a sense of desperation with the status quo in Nigeria and continued anger over the brutal suppression two years ago of the #EndSars movement – named after a hated police unit – which demanded better governance.
"The youth are disillusioned with the APC and PDP. Their hopes have been squandered," said Stephen Lafenwa, a senior lecturer at the department of political science at the University of Ibadan.
Obi is no stranger to presidential elections. In the 2019 vote he ran as the vice-presidential candidate for the PDP, whose losing presidential candidate Atiku Abubakar is running again this year.
Last year Obi challenged Abubakar to be the PDP's candidate but lost, prompting his move to the formerly fringe Labour party, where his grassroots campaign touting his experience as governor and his outsider status has gained momentum, with a vibrant social media following.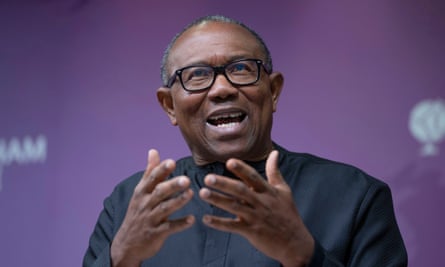 "It is really interesting because we now get to see competition beyond the two parties [and] we have an expansion of choice," said Dengiyefa Angalapu, a research analyst at the Centre for Democracy and Development. "It is no longer a situation of the devil and the deep blue sea, now it is the devil, deep blue sea and perhaps the Red Sea."
Despite the excitement around Obi's candidature, he faces an uphill battle against Abubakar and Tinubu, a two-term governor of Lagos state and veteran of Nigerian politics running for the ruling APC. Known as the "godfather of Lagos" for his political clout, Tinubu will benefit from the ruling party's national network.
Whoever wins will have to grapple with a dire economic outlook – record inflation is running at 21.47% and the naira's value has rapidly depreciated – and an insecurity crisis that has seen a proliferation of terror attacks and attacks for ransom around the country.
"Nigeria is on the brink," said Chinua Ubabuko, a recently graduated university student and Obi supporter. "Ethnic militias have become forces to reckon with in basically every part of the country and so it is a no-brainer that the next president must be one who can attack the situation and bring peace."
Security forces are fighting a 13-year-old war against jihadists in the country's north-east, bandit militias in the north-west and separatist tensions in the country's south-east.
Gunmen have repeatedly targeted local offices of the independent national electoral commission, known as INEC, which has warned that it may have to cancel or postpone the vote.
Several online polls have placed Obi as the likely winner, but they are being treated with extreme caution by observers, who say their results have been skewed by the youthful profile of Obi voters.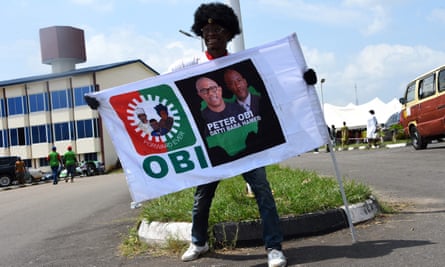 Experts say displacing the APC and PDP would be nothing short of revolutionary, but that regardless of the final result, Obi's candidature for the Labour party will leave a mark by showing a serious challenge to the big two's dominance is possible.
"[Previously] when we had those third forces, the people did not have trust in them. As soon as they [candidates] become strong, they join the ruling party. In Obi, they see someone who is willing to fight until the end," Angalapu said.
Another possibility is that Obi will take enough votes to prevent Abubakar or Tinubu winning in the first round, which requires a simple majority of all votes and 25% of votes in at least two-thirds of the country's 36 states. A second-round runoff would be a first in Nigerian electoral history.
Lube and Ubabuko said young voters like themselves face a clear choice between a brighter future and the continued mismanagement of the country.
"Obi speaks the language of our problems," said Lube. "He understands what Nigeria should look like, sound like and feel like."
Agence France-Presse contributed to this report