Over 17,000 weapons surrendered in first year of Australian firearms amnesty | Gun control
More than 17,000 weapons, including a Vietnam war-era flamethrower, were surrendered in the first year of Australia's national permanent firearms amnesty.
States and territories struck an agreement with the Commonwealth in 2019 to establish an enduring amnesty allowing gun owners to hand in unregistered, illegal, or unwanted firearms without punishment or investigation.
The amnesty began in mid-2021, after Covid-related delays, aiming to claw back some of the roughly 260,000 illicit firearms thought to be in circulation in Australia.
A report on the first year of its operation, released by the government on Saturday, showed Australians surrendered 17,543 firearms and weapons and 606 firearms parts and accessories.
The weapons surrendered include a Vietnam war-era flamethrower, handed to police in Canberra, sawn-off shotguns, gel blasters and revolvers.
The vast majority of the surrendered firearms were rifles (8,140) or shotguns (2,896). About 789 pistols were handed in.
An anonymous survey conducted during the amnesty showed most people (48%) were handing in the firearms because they "did not need or want the firearm any more".
About 15% said they were doing it because they felt a sense of responsibility. Just 1% said they were doing it to avoid a criminal charge.
All but three of the states and territories check the weapons to see if they are stolen or missing.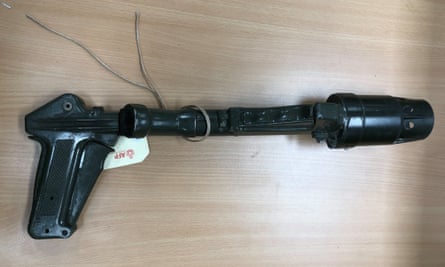 Just 16 of the surrendered weapons were known to be stolen. Another 30 were recorded as missing.
Australia's last firearms amnesty lasted for three months in 2017, after the states and territories agreed on revisions to the national firearms agreement in the wake of Sydney's Martin Place siege.
It resulted in 57,000 firearms being handed in.
The famous buyback and amnesty scheme held in 1996-97, led by John Howard after the Port Arthur massacre, prompted the surrender of almost 650,000 firearms.
Research has consistently shown that the post-1996 reforms had immediate and sustained effect on the incidence of mass shootings. They also greatly reduced other forms of gun deaths.
In a study published by the University of Sydney last year, researchers said that between 1979 and 1996, average annual firearm-related mortality was 3.6 per 100,000 people. After the introduction of the national firearms agreement, that figure dropped to 1.2.
"The most noticeable drop after gun law reform was in firearm-related suicides, which currently account for about 70% of gun deaths in Australia, with no evidence of substitution in methods of suicide," the study said.
Attorney general Mark Dreyfus described the first year of the permanent amnesty as a success.
"It is an important measure to reduce the number of firearms circulating in our community, and keep Australians safe," he said.
"The report released today found Australians who surrendered firearms in that time period were primarily motivated to do so out of a sense of responsibility or because they did not require them."
Assoc Prof Philip Alpers, gun control expert at University of Sydney, said in 2021 the number of Australians holding gun licences was also falling.
His data suggested that, while a smaller proportion of Australians had gun licences, those that were licensed were owning more and more guns. At the time, Alpers said Australian civilians owned 3.5m registered firearms, an average of four each.
"It's clear that those who already own guns have bought more, while those who don't own guns are becoming more numerous," Alpers said at the time. "Polling confirms this, with the proportion of Australian households with a firearm falling by 75% in recent decades."
Alpers said that private gun owners also held about 260,000 illegal firearms in the "grey market" of undeclared weapons.