Owner of UK care home group paid himself £21m despite safety concerns | Social care
A multimillionaire dementia home boss paid himself at least £21m in five years despite inspectors finding multiple breaches of staffing, safety and leadership rules, with residents left in dirty incontinence pads and staff accused of rough handling.
Gordon Sanders owns Runwood Homes, the UK's sixth largest for-profit care home group, which charges residents more than £1,000 a week, with bills often covered by the taxpayer.
The majority of 60 homes registered as offering dementia care were ranked "good" by Care Quality Commission inspectors over the past five years. But almost one in three were rated "requires improvement".
Problems reported by inspectors include not enough care workers, meaning residents unable to get to the toilet, stuck in bed, lacking activities, feeling "trapped" and "at risk of harm".
Inspectors heard reports of "awful" food and found some staff who were not trained or checked for criminal records. In one home, inspectors found residents were restrained by staff strapping a table top to a chair.
Several breached Care Act regulations including for a lack of staff to look after people safely and protecting people from abuse.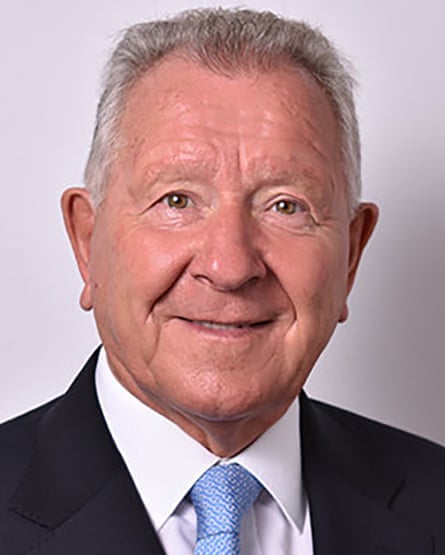 Sanders, 76, is described on Runwood's website as a "successful property developer", and owns a mansion in Essex and a flat in London's Knightsbridge that Zoopla estimates suggest are worth about £4m and £4.7m respectively.
Residents representatives said the "eye-watering" payouts would spark anger and that supporting people with dementia should not be a way to "make millions".
The shadow care minister, Liz Kendall, said it was "totally outrageous for private providers to be leeching millions out of care homes while providing appalling standards for residents".
Runwood also reported it accepted £12.3m in government grants in 2020 and 2021 related to the Covid pandemic, including for infection control and the job retention scheme. Over the same years it awarded salary to the highest paid director and dividends totalling £14.3m.
Another beneficiary has been the former chief executive Nadarajah Logeswaren, 59, who was paid £15.8m in 2018 "in relation to a long-term incentive scheme", accounts show. Directors' salaries and dividends drawn from the company totalled £57m over five years.
CQC inspection reports published in the last year about Runwood care homes found to require improvement and in breach of the Care Act regulations showed:
At Silvanna Court in Wickford "insufficient staff were available, which placed people at risk of harm". One staff member said: "[residents] are always soiled but we just don't have enough of us to take [them] to the toilet." Medicines were not always managed safely.

At St Michael's Court in Norwich one person was given a sedative three times a day when it was prescribed on an as-required basis. Staff were "rushed off their feet" trying to look after two or three people at once, and people were not consistently offered enough to drink.

At Highview Lodge in Hemel Hempstead, some residents said staff "could be a bit rough when supporting them with care needs or moving". One person said: "Most of them are kind, some are rough and throw me about."
Meanwhile, at Loganberry Lodge in Colchester some people ate bread and butter and cereal because main meals were left to dry out. One worker said: "We don't really get the time to 'care', have the cup of tea or go for a walk outside, all those little things that the residents would enjoy that we can't do."
Runwood's chief executive, Jeremy Richardson, declined to comment. In its latest accounts filed in June, the company said it was "passionate about providing the highest possible care for clients and has invested £7.2m in providing new and upgraded homes during the year".
It said "the potential risk for reputational damage to arise through poor outcomes in regulatory visits remains a source of concern". Referring to the CQC, it said "the group does not take the actions issued by the authorities lightly with the directors continuing to strive to address the concerns raised and ensure lessons are learned".
The earnings illuminate the cash generated by some care businesses at a time when there are warnings of a "national crisis" in care safety. More than half of residential homes in England offering dementia care reported on by inspectors last year were rated "inadequate" or requiring improvement – up from less than a third pre-pandemic.
There are 165,000 staff vacancies and rising in England's care homes. That is equivalent to more than one in 10 posts unfilled. Wages averaged £9.50 an hour last April, according to Skills for Care.
Care assistant jobs are currently being advertised by Runwood at £10 an hour – the same as a McDonald's crew member. The current national minimum wage for workers aged over 22 is £9.50 rising to £10.42 on 1 April.
Kendall said: "Elderly dementia patients deserve to be well looked after and treated with decency. Labour will force out those who are providing a shoddy service for a heavy price, and ensure good levels of care for all who need it."
Helen Wildbore, the director of the Relatives & Residents Association, said: "There will, rightly, be anger from residents and their families at these eye-watering payouts whilst they are suffering the impact of such poor care.
"Supporting people affected by dementia should be an honour and a privilege, not a way to make millions. This highlights the sad reality of care as a commodity, where owners have very little accountability to those they should be serving."
Dementia is a growth market with 1.6 million people predicted to be living with the disease by 2040, up from 900,000 today.
Runwood bought many of its homes from local councils struggling to afford their operation including several from Essex county council in 2000, six from Nottinghamshire county council for £1.2m in 2011 and five from Doncaster council for £1.5m in 2012.
In 2018, an official investigation into Runwood's Dunmurry care home in Northern Ireland found "a horrific catalogue of inhuman and degrading treatment". The commissioner for older people for Northern Ireland concluded many people spent the last months of their lives "in appalling circumstances".
Four out of five older people in residential care homes in England are now looked after by private providers – over 300,000 people – far more than in not-for-profit, council and NHS care homes, according to LaingBuisson, a market research firm.
Around one in eight adult social care settings are rated good or outstanding, by the CQC. Providers face a constant struggle for staff and complain the government does not pay them enough to meet the true cost of care. MPs, councils and thinktanks have estimated the social care budget needs to increase by £7bn to £10bn a year. In the autumn budget funding was increased by £7.5bn over two years.
Runwood provides close to 5,000 beds. In the last two years for which accounts are available the firm made £43m in profit after tax on turnover of £301m – a 14% margin.
In addition to £18.6m in dividends paid in the last five years to Sanders, who holds 100% of the share capital, Runwood's accounts show Sanders drew £2.2m in salary in 2017, as the highest paid director. The highest paid director between 2019 and 2021 received £10.1m in total. That person is not named in accounts but may be Sanders, who served as chief executive until last summer, potentially pushing his five-year earnings to £31m.
Profitability among the largest care home chains in the UK ranges from 11% to 42% of revenue, according to LaingBuisson. The five largest groups made £578m in profit in 2020 – a 22% average return when counted using the profit measure known as Ebitdar. Unlike Runwood, which is a family-owned business, several of the other large chains are owned by private equity firms, offshore investors or international investment trusts, making their profits harder to trace.