Police find elaborate underground bunker in Adelaide allegedly used to grow cannabis | Drugs
Two men have been arrested after police uncovered an elaborate underground bunker allegedly used to grow cannabis in Adelaide's south.
Officers attended a semi-rural property in the suburb of Coromandel East on Monday where they discovered the bunker's entrance.
Once inside, police allege they uncovered a large amount of cash and drugs, including 18 cannabis plants being grown hydroponically.
Officers seized the cash and hydroponic equipment, along with around 680g of dried cannabis and roughly 35g of a white powder suspected to be cocaine.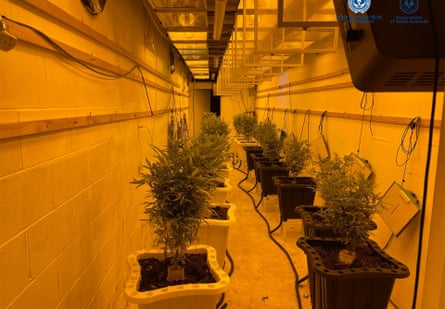 A 53-year-old man and 20-year-old man, both from Coromandel East, were arrested at the property.
They have been charged with cultivating cannabis, theft of electricity, possessing prescribed equipment, trafficking in cocaine and cannabis, and money laundering.
The men were also charged with possessing firearms without a licence after police allegedly found two gel blasters in the bunker. Gel blasters are designed to look like real firearms but fire relatively harmless water-based pellets.
In South Australia, gel blasters are subject to the same licensing, registration and security conditions as other firearms.
"If you have a gel blaster, you have a firearm," South Australian police said in a statement.
Det Supt Billy Thompson said illicit drugs did untold harm to the community.
"This find of a concealed underground bunker illustrates the lengths that those involved in [alleged] organised crime will go to in attempting to conceal their activities," he said.
The men were refused bail to appear in the Adelaide magistrates court on Tuesday.