Republicans have already filed dozens of bills to restrict voting in 2023 | US voting rights
Republican lawmakers across the country have already filed dozens of bills that would restrict voting, including proposals in Texas that would increase criminal penalties on people who violate voting laws and enact a new law enforcement unit to prosecute election crimes.
The 2023 legislative session comes in the wake of an election that was described by many voting rights advocates as a triumph of democracy, despite the restrictive voting laws that were in place in 20 states for the first time last year.
Before this session, at least 26 states enacted, expanded, or increased the severity of 120 election-related criminal penalties.
This year, Republican-controlled legislatures plan to continue pressing for laws that they say would help prevent widespread voter fraud, a problem that voting advocates say does not exist but nonetheless continues to be alleged by Donald Trump and his allies. Several pre-filed bills would further criminalize voters and election officials, a trend that has been occurring across the US in the past few years.
"We started seeing states introducing and moving and passing legislation that creates new criminal penalties or expands existing penalties for election-related crimes, in particular against election officials," said Liz Avore, senior adviser with the Voting Rights Lab, which tracks new legislation. "A lot of these bills would criminalize good-faith errors by election officials. In other cases, they criminalize conduct that was previously legal or otherwise encouraged."
In Texas, where the legislature meets every other year and convened on 10 January, lawmakers pre-filed 14 bills that would restrict voter access or election administration, according to the Voting Rights Lab. The Texas Republican party has made election security one of its legislative priorities this session.
At least five pre-filed bills in Texas would raise the penalty for illegal voting from a class A misdemeanor to a second-degree felony, punishable by up to two years in prison. The bills come after SB1, Texas' omnibus voting law passed in 2021, decreased the penalty for illegal voting to a misdemeanor from a felony, partly in response to the arrest and conviction of Crystal Mason for illegally voting. Mason was sentenced to five years in prison despite the fact that she said she did not know that voting while she was on supervised release meant that she was violating the law.
The Texas representative Bryan Slaton, one of the Republican lawmakers to introduce a bill to raise the penalty to a felony, said he had not known that the amendment to reduce the penalty had been slipped into SB1, and he wanted to reverse the change. He said the penalty should be strict given the importance of the voting process.
"If someone is attempting to cheat or does cheat, I think that that needs to be prioritized and investigated and if it's a misdemeanor, it has a hard time getting attention from law enforcement," he said.
Avore said that increasing criminal penalties was "a proposal that I expect to move very quickly in 2023".
Under pre-filed bills in both chambers, Texas would also launch an election police force similar to the one created by Florida's Republican governor, Ron DeSantis, which has so far come up short of producing convictions or any evidence of widespread voting offenses. Texas's law enforcement unit, led by state "election marshals", would be dedicated to prosecuting election and voting crimes.
Under the proposed legislation, the top election marshal would report to the secretary of state and would appoint election marshals to represent different regions. Election marshals who investigate a violation of Texas voting law could issue warrants and file criminal charges. They could also "impound election records and equipment".
Other bills in Texas would expand the attorney general's authority to prosecute election crimes. One bill would allow the attorney general to appoint a special prosecutor for criminal voting cases, and another would allow the attorney general to issue civil penalties to local prosecutors who do not investigate voting crimes. The office of the state attorney general, Ken Paxton, has in the past tried to prosecute voting crimes, but his voter fraud unit closed just 16 minor cases in 2020, according to the Houston Chronicle.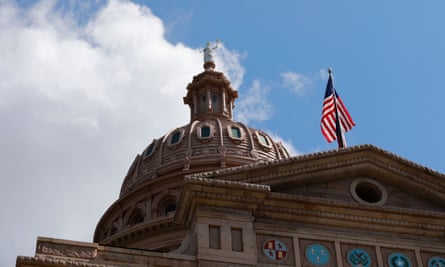 The highest criminal court in Texas put a damper on Paxton's efforts in 2021 when it ruled that it was unconstitutional for the attorney general to unilaterally prosecute election cases, but "we're seeing legislation now that's testing the boundaries of that ruling," Avore said.
Other pre-filed bills in Texas would impose an address confirmation process that could lead to voters' registrations being canceled if they have not voted in more than two years before a general election. Another would prohibit counties from operating polling places in elementary or secondary schools, a proposal that responds to concerns about school safety but could introduce confusion as polling places are moved and fewer buildings are available for elections.
Though the majority of already filed bills are in Texas, Republicans in a few other states are also indicating their priorities when it comes to restricting voting this session. In Virginia, a pre-filed bill would require all in-person voters to show photo ID. The state currently allows voters to show some forms of non-photo ID and to sign an affidavit in lieu of showing ID.
In South Carolina, a Republican lawmaker pre-filed a bill that would require voting systems that allow voters to hand-mark paper ballots and would require all paper ballots to be hand counted, prohibiting tabulators.
While Democratic-sponsored bills to protect voting are unlikely to pass in Texas, where the legislature is controlled by Republicans, there is at least one proposal in the state that has bipartisan support. In the past, both Democrats and Republicans have voted for legislation to allow voters to register online.
And across the country, far more bills have also been introduced to expand voting rights. As of Wednesday, Voting Rights Lab is tracking 162 bills that would improve voter access or election administration.
In Missouri, for example, a proposed bill with bipartisan support would restore voting rights to people with felony convictions upon their release from prison, allowing them to cast ballots while on parole or probation. Another Missouri bill would require that voters be notified of errors on their mail ballot envelopes and given an opportunity to correct those errors so their ballots can be counted.
Bills introduced in New York, Texas, and New Jersey would all allow same-day voter registration, which is currently permitted in 22 states and Washington DC.