Sunak apologises for failing to wear seatbelt while filming in car | Rishi Sunak
Rishi Sunak has admitted failing to wear a seatbelt while filming a video for his Instagram account in the back of a moving vehicle – an apparent breach of the law.
According to his government's own safety campaign, any driver or passenger not wearing a seatbelt is breaking the law and is liable to be fined up to £500.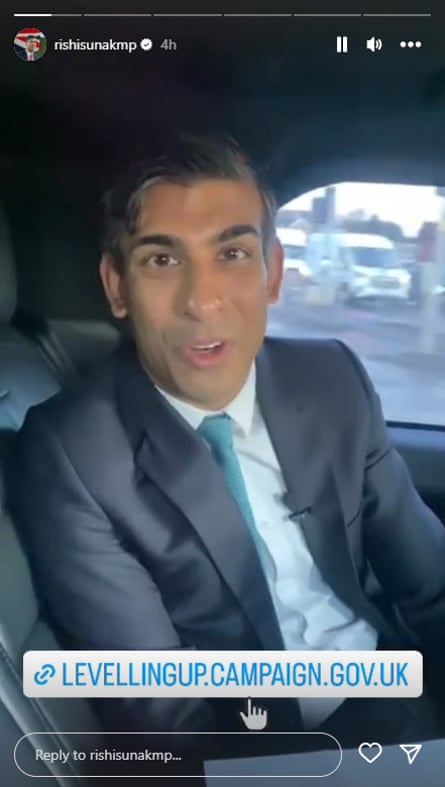 Downing Street said the prime minister has apologised for what it characterised as a "brief error of judgment" by removing his seatbelt to film the social media video message while a passenger in the back seat of a car.
A spokesperson for No 10 said: "That was a brief error of judgment. The prime minister removed his seatbelt to film a short clip."
Sunak "fully accepts this was a mistake and apologises", the spokesperson said, adding: "The prime minister believes everyone should wear a seatbelt. It was an error of judgment; he removed it for a short period of time to film a clip, which you've seen, but he accepts that was a mistake."
The video was posted to Sunak's own Instagram account but no longer appears there.
Labour criticised Sunak for the act, with a spokesperson saying: "Rishi Sunak doesn't know how to manage a seatbelt, his debit card, a train service, the economy, this country. This list is growing every day, and it's making for endless painful viewing."
There are several exemptions to the requirement to wear a seatbelt, including when a car is being used for police, fire and rescue services and for people with certified medical issues. None appeared to apply to Sunak, whose car was being escorted by police motorbikes.
The government has considered toughening seatbelt rules to ensure drivers not wearing them receive penalty points. Recent Department for Transport figures suggested about 30% of people killed in cars on Britain's roads in 2021 were unrestrained.
Lancashire police referred a request for comment to Scotland Yard, which has not yet responded.
Sunak has previously received a fine for breaching Covid restrictions while chancellor.