Sydney shark attack: beaches in north closed after dolphin mauled | Sydney
A shark attack on a dolphin has forced lifeguards to clear swimmers from the water on Sydney's northern beaches.
The attack by multiple bull sharks off Shelly Beach near Manly occurred about 7am on Saturday, Surf Life Saving New South Wales (SLSNSW) said.
Lifeguards closed Shelly and Manly beaches for the rest of the day following the attack, which also resulted in the cancellation of the Manly Open Surf Classic surf life-saving event.
Footage captured by a drone and released by SLSNSW appeared to show at least two sharks off the beach while the dolphin struggled to swim in the shallows with injuries visible to its tail and side. The dolphin later died.
Images of the dolphin released by SLSNSW showed at least five bite marks across its body.
"Surf lifesavers and lifeguards cleared swimmers from the water and a large surf carnival has been suspended," SLSNSW said. "A Surf Life Saving UAV [drone] has been monitoring the shark activity from the air and has spotted a number of sharks in the area."
A witness to the attack told the Nine Network one of the sharks was about 3m long. Emily Pettersson said she heard about the injured dolphin so she swam into the shallows to try and find it.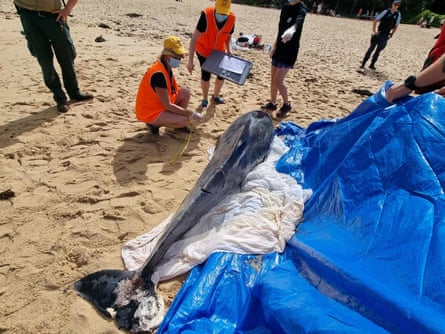 "Probably about 20m out front of the beach and I see the dolphin swim past on one side and I see a shadow on the right side," Pettersson told Nine.
"So I turned around and there's probably about a three-metre bull shark but it wasn't even looking at me, it was just going for the dolphin."
Another witness told the ABC that they had been on the beach and "we saw this dolphin just swimming around in the bay, which we thought was absolutely wonderful.
"And the next thing, we walked on and saw, 'hang on, there's been a shark spotted, so we cannot go into the water'.
"[We] came back and then saw the dolphin was here, on the beach, which is really incredibly sad."
Jools Farrell, the vice-president of the Organisation for the Rescue and Research of Cetaceans in Australia (ORRCA), told the Manly Observer the dolphin had died from its injuries.
She said it was unclear if an autopsy would be conducted, but it was possible the dolphin was sick before the attack.
"We're thinking it was an unwell dolphin to start with, so that's why it would've stranded on the beach," Farrell.
"In that area there are quite a lot of sharks around, and if there is a dolphin in the area that is unwell, that would attract sharks as they can sense it."
Fatal shark attacks on people in Sydney are rare. In February last year, a man died near Little Bay Beach in the city's south-east, in the first fatal unprovoked shark attack in Sydney since 1963.