Three children among six killed during Indian kite-flying festival | India
Six people, including three children, have died after their throats were cut by glass-coated kite strings during an annual kite-flying festival in India.
Hundreds flocked to terraces and rooftops to unfurl their kites towards the sky at the Uttarayan festival in the western Indian state of Gujarat over the weekend.
The victims reportedly bled to death when the razor-sharp kite strings became entangled around their necks, officials told the Press Trust of India (PTI). At least another 176 people were injured due to cuts and falls.
Some participants are known to coat their kite strings with powdered glass in order to slice their opponent's cords while in the air. Although the practice has been banned since 2016, critics say it is rarely enforced.
A two-year-old girl reportedly died after a kite string struck her neck while riding on a scooter with her father, PTI cited an official from Bortalav police station as saying.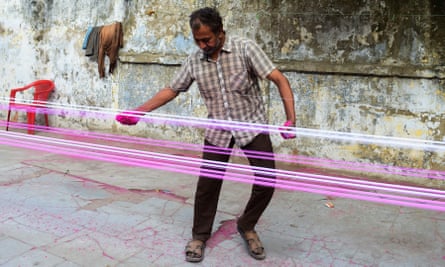 The girl, known only as Kirti, is said to have died during treatment at a hospital on Sunday.
Another girl, aged three, was walking home with her mother in Visnagar town on Saturday when a string cut her neck. She was taken to hospital but was declared dead on arrival, a Visnagar police official said.
Rishabh Verma, a seven-year-old boy riding on a scooter with his parents, was also struck by a string in Rajkot, an official from Aji Dam police station said.
According to police, similar incidents were reported in Vadodara, Kutch and Gandhinagar districts, where three men were killed in similar circumstances.
Nikunj Sharma, a campaigner for People for the Ethical Treatment of Animals (Peta) India, previously told the Guardian the use of manja, the nylon string used to fly kites instead of cotton, could make injuries severe. "Unlike cotton strings these are non-biodegradable, don't break easily and continue to cause injuries months after the festival," Sharma said.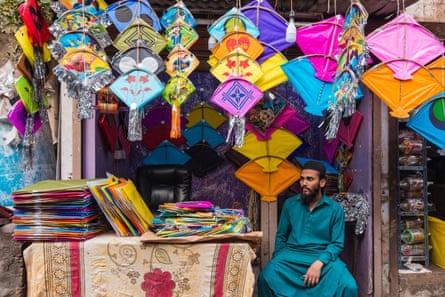 In Ahmedabad, Gujarat's largest city, the police department warned against using the coated kites at the festival.
"Do not use deadly Chinese manja to fly kites," it said. Police urged participants to be careful while flying kites during the festival, saying the "momentary fun" of cutting another kite could come at the cost of someone's life.
However, Jayesh Shinde, an activist campaigning against the use of manja, said the government had failed to uphold the ban and should compensate victims for their treatment.
"Citizens should not have to pay for the lackadaisical attitude of the government machinery. If the official ban is not being implemented, then the government should offer compensation to victims," the Times of India quoted Shinde as saying.
The popular festival marks the onset of spring where kite-flying is often used during celebrations across the country.
Hundreds of birds also fly into the kite strings or are entangled in them, causing deep cuts to their wings, nerve injuries, fractures, dislocations and, in many cases, death.