Travel disruption across UK caused by ice and snow to continue | UK weather
The Met Office has warned of continued travel disruption caused by ice and snow in parts of the UK, as a major incident has been declared in Somerset because of flooding after heavy rain in recent weeks.
Weather warnings for snow and ice are in place for four parts of the UK until midday on Thursday, including northern Scotland and the Orkney Islands, Northern Ireland and north-west England, Wales and parts of the West Midlands.
Meanwhile, a yellow warning for ice for Cornwall, Devon and parts of Somerset will expire at 10am on Thursday.
Temperatures could reach -9 in Scotland, -6 in Wales, -6 in Northern Ireland and -5 in England on Wednesday night.
The cold snap will continue until the weekend, before becoming milder and drier next week as the jet stream weakens and moves northwards, according to the Met Office meteorologist Alex Deakin. The UK Health Security Agency has issued a level 3 cold weather alert for all of England, which is in force until 9am on Friday.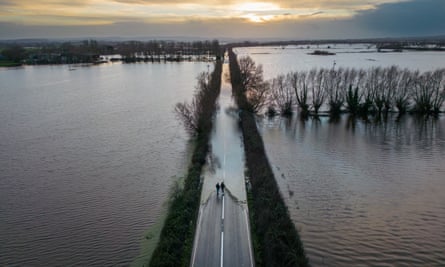 In Somerset, the Environment Agency said declaring a major incident was a "precautionary move" after the Somerset Levels flooded. It added that imminent flooding to properties was not expected but said there would be a risk for another week.
Workers started a pumping operation last week to try to get rid of some water from the area, and additional pumps were introduced on Tuesday at Northmoor after Currymoor, a drainage site, reached capacity.
A total of 56 flood warnings are place in England, including in Somerset, with no warnings for Wales, Scotland Northern Ireland currently active.
South-west England has been badly hit by the weather this week, with more than 80 schools closed because of heavy snow on Tuesday.
Ian Withers of the Environment Agency said: "The sight of water on the Somerset Levels and moors is obviously a concern to those who have suffered from flooding before. Our staff continue to work to the best of their abilities to protect people and properties, install pumps and engage with communities."