UK seeks more German support as it confirms Challenger tanks for Ukraine | UK news
Britain's defence secretary has called on Germany to release Leopard 2 tanks for Ukraine after he confirmed that the UK would send 14 of its own Challenger 2 tanks, the first time a western nation has given its own heavy armour to Kyiv.
Ben Wallace said the UK would allow Ukrainians to start training with the tanks immediately as part of a fresh package of British military aid, unveiled before a western defence ministers' conference in Ramstein, Germany, on Friday.
The British minister told the Commons he would "urge my German colleagues" to at least give permission for Poland, Finland and other countries to re-export German-made Leopard 2s in the coming days.
"There's a debate in Germany at the moment about whether a tank is an offensive weapon or defensive weapon. Well, depends on what you're using it for. If you're using it to defend your country, I would wager that it is a defensive weapon system," Wallace told MPs.
Any decision by Berlin to permit the re-export of Leopards, used by 13 Nato countries, or to give some of its own, would be a decision taken as part of a wider allied effort, Wallace added. "I know there's been concerns in the German political body that they don't want to go alone. Well they are not alone," he said.
Analysts at the International Institute for Strategic Studies (IISS) thinktank believe Ukraine needs at least 100 western tanks to help it mount a successful spring offensive against Russia.
Getting to the numbers required would need the help of Berlin. There are over 2,300 Leopard 2 tanks available or in storage in 13 Nato countries, according to the IISS, whereas there are only 227 Challenger 2 tanks in the British entire army.
Poland and Finland, with substantial fleets of the German-made tanks, have both indicated that they are each willing to donate similar numbers to the UK, if they are allowed to by Berlin.
Even so, more nations will be required to come forward to reach the 100 level the IISS said would be required. Some countries, such as Spain, have previously warned that their tanks are in too poor a state of repair to donate.
The British minister also said the UK would aim to train 20,000 Ukrainian soldiers this year, with the help of a range of partner countries, now including Australia. Last year Britain trained 11,000 for Kyiv.
In addition, Britain will donate eight AS90 artillery guns plus 100,000 thousand artillery shells and, Wallace said, "hundreds more" lighter armoured vehicles, some of which may be bought by the UK from other sources and then given to Kyiv.
British troops were told by Gen Sir Patrick Sanders, the chief of general staff, in an internal email that "Ukraine needs our tanks and guns now" and that he was confident the country would put the British kit "to good use".
But the head of the army acknowledged that giving away "battle-winning capabilities" would "leave us temporarily weaker as an army, there is no denying it" – and emphasised that replacements for the AS90 gun would be brought in quicker than expected, in 2027.
The chief adviser to Ukraine's president said his country was very grateful to the British people and to the prime minister, Rishi Sunak, for the latest military aid package. "The gifts list is really impressive. We'll make good use of them defending our freedom," he added.
Russia said that Britain was using Ukraine "as tool to achieve their anti-Russian goals", according to Kremlin spokesperson Dmitry Peskov. Warning the west against further weapons supply, Peskov added: "These tanks are burning and will burn just like the rest."
Britain says it has never lost a Challenger 2 tank in combat, although the last time they were deployed was in Iraq. Previously they were used on military operations in Bosnia and Kosovo towards the end of the decade before.
A decision is now awaited from Germany before the Ramstein meeting on Friday. But there was turmoil in Berlin after the defence minister, Christine Lambrecht, announced her resignation after a series of blunders.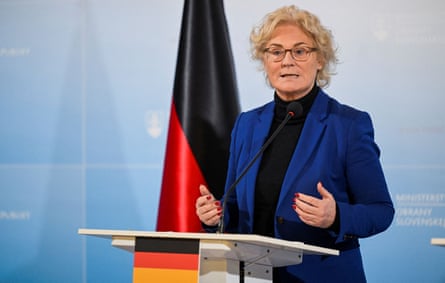 Lambrecht asked the German chancellor, Olaf Scholz, to accept her resignation, she said in a statement on Monday morning, following widespread speculation over recent days that she would stand down.
Scholz's judgment has been questioned over his appointment of Lambrecht in the first place. He is under pressure to replace her with another woman, in order to fulfil his pledge to have an equal number of men and women in his cabinet.
"Months of media focus on me doesn't allow for fact-based reporting and discussion about soldiers, the army and security policy in the interest of German citizens," Lambrecht said in her resignation statement.
From the start of her appointment in December 2021, Lambrecht was viewed as a weak candidate for the job. Insiders say the former justice minister had originally hoped to secure the interior ministry role.
When Scholz announced a huge increase in military spending with the creation of a €100bn (£89bn) investment fund for the German armed forces at the start of the war in Ukraine, Lambrecht appeared to struggle with the scale of the challenge to bring the military into shape.
The apparent slowness to deliver accompanied repeated reports about the ill-equipped nature of the army. Last month, during a training exercise, all 18 Puma infantry vehicles deployed had to be taken out of service due to technical difficulties, despite them being one of the military's most advanced pieces of equipment.