'We feel betrayed': Peruvians on anti-government protests | Peru
Daniel, 32, an indigenous mine worker from the city of Abancay in the southern-central Apurimac province, did not participate in the mass protests that swept over Peru in 2020, after president Martín Vizcarra was ousted.
"But I did take part this time, in my town, to support my people, Indigenous people, who have been treated like garbage for centuries by the 'elites'."
President Dina Boluarte on Sunday declared a 30-day state of emergency in the capital, Lima, and three other regions following weeks of protests against her leadership that have claimed at least 48 lives. She has repeatedly refused to resign.
Six in 10 (58%) Peruvians believe the authorities have responded excessively to the protests, according to an Institute of Peruvian Studies survey this month. It also found that 83% of those polled backed early elections and only three in 10 approved of Boluarte's government.
"People are really angry because of the people who have been killed, most of them farmers and Indigenous people, and about the racism and classism of those in power," he says.
Daniel is one of scores of Peruvians from across the country who responded to the Guardian's callout about anti-government protests.
The mass demonstrations began in early December, after then-president Pedro Castillo was ousted from office for attempting to dissolve Congress and rule by decree, seeking to prevent an impeachment vote against him.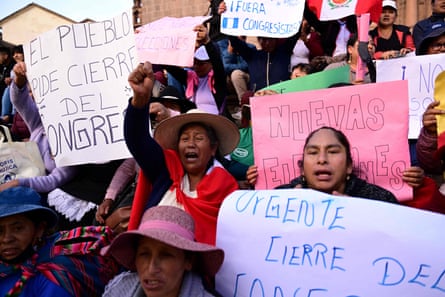 "I don't want Castillo to come back, because sadly he did something illegal. But he was the first Indigenous president to be elected, he was our champion. When he took office, the media began to attack him. But we trust him, because he was like us – a farmer, a teacher in a rural school in a very poor town. We feel betrayed."
The protests are broadly about the stark inequality between poor Indigenous regions in the south of the country and the capital, Daniel says.
"We don't have good doctors, no decent education, people here have no money, no infrastructure. Castillo wanted to change the constitution, to enable more participation of indigenous people. When Boluarte, who is supported by the elites, resigns, it will be the beginning of change."
Daniel says there has been heavy military presence in Abancay since the protests began. "But now, people from many regions have travelled to the capital to protest there. So there are less security forces on the streets than previously. The media call people who protest for their rights 'terrorists', depict Indigenous people as ignorant, as people without education and without feelings, even."
In Lima, clashes between police and thousands of protesters erupted on Thursday night. Previously, protests have been much smaller. Alonso, an entrepreneur and owner of a fashion store, attended a protest on the capital's Plaza San Martin as an observer. "There were about 500 people. I was just being curious, talking with people and exchanging political points of view to learn and understand the whole scenario," the 38-year-old said.
"Violence keeps escalating, the protests have been badly managed, and there is a lot of fake news. My view is that Boluarte should resign, because she lost control, used excessive force and has proven she isn't capable of managing a crisis.
"But I fear this will only cause more violence, because possible successors would be even more repressive than Boluarte."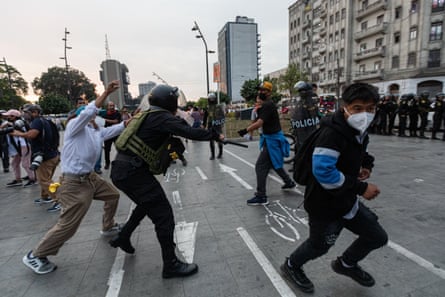 Although he is sympathetic to the plight of people living in poorer regions, he feels some of their demands are misguided. "The protesters want the system to become fairer, but some people are asking for impossible things, such as ex-president Castillo's restitution, the dissolution of congress.
Discussions about inequality are more complicated than meets the eye, Alonso says. "The economy is no longer centralised as it was in the past, but for inefficient regional leaders it is easier to blame Lima. They say all their resources are used to enrich the capital, but that's not true.
"I feel very sad that the country has become engulfed in chaos and about those who've died."
The protests have also resulted in Peru's major roads being blocked, with effects on prices and availability of essential goods. Kay, a retired 65-year-old UK national who has lived in Peru for eight years and is supportive of the protests, describes the impact this is having.
"There is no movement of goods, and food shortage is beginning to hit hard. I live in an autonomous Andean community of 250 people where there is one shop run out of a house. Because of the road blocks, no transport is allowed and every week we are given a short period of time to travel between local towns."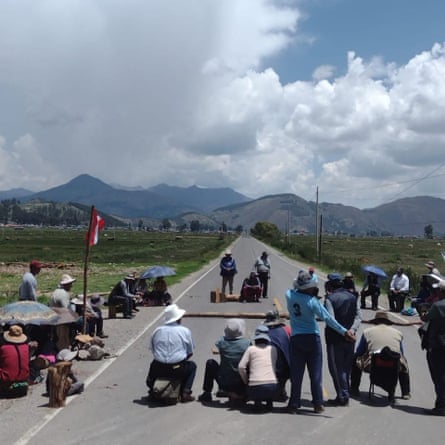 She says that prices in Sicuani, the nearest town, have doubled. Another problem is that the town's shops are largely cash-only, and the ATMs have run out of cash. "So it's hard to restock without going to get cash from Cusco, which is three hours away."
"In our community, there is a lot of exchanging of food going on. We set up a soup kitchen last week – we bought supplies from Sicuani during one of the evenings when passage was allowed, but they are now starting to dwindle."
Nearby in Cusco, Dulce, a 30-year-old researcher, says the protests have divided the city. "Last week, the city almost felt like it was on a general strike – there was no public transport and very few stores were open. The city relies heavily on tourism so the economic impact is substantive, and a lot of informal commerce has been affected," she says.
Dulce criticises the authorities for accusing the protesters of being organised by external forces. "I spoke to protesters in Cusco and they were self-organised and making logical demands for things that have been delayed for so long," she says.
In Abancay, Daniel is worried about further violence. "Here in the south of Peru, more and more people are joining the protests, they are becoming more organised. I think the protests will get bigger if the president and congress don't resign. My main hope is that no more people will be killed."