'We need him here': Djokovic comeback melts Melbourne hearts … almost | Australian Open 2023
In the moments before Novak Djokovic returned to Rod Laver Arena, many fans were unsure whether he would be welcomed back as the nine-time Australian Open champion or rebuked as an unvaccinated Covid-era villain.
Even his vocal supporters, like Peta Kovitch, draped in a Serbian flag and a string of lights that lit up the name Novak around her neck, expected some abuse from the Melbourne crowd. "If they want to boo, well they can go to the football. I'm sorry, that's where it belongs," she said before the match.
The boos never came. Instead, there was a standing ovation as Djokovic came on to the court, followed by a lyrical outburst of "olé, olé, olé". The Australian Open had welcomed back its most successful men's player.
"It's time to move on," said one fan, Sandy Chalmers, outside the stadium. "Let's just watch a great game of tennis. We're living in a different time now."
In a city subjected to 20 months of strict lockdowns, forgiving Djokovic for breaching immigration rules, or at least learning to live with him, may be another step towards recovering from the pandemic.
Djokovic, it seems, is also willing to move on. After securing match point he held his hand to the court and then to his heart. "I really feel very happy that I'm back in Australia, back here, on the court where I had the biggest success in my career," he said.
One year since Djokovic's hotel detention in Melbourne and subsequent deportation, he remains a divisive figure. "You're a wanker, Novak," yelled one voice in the crowd just before the first point.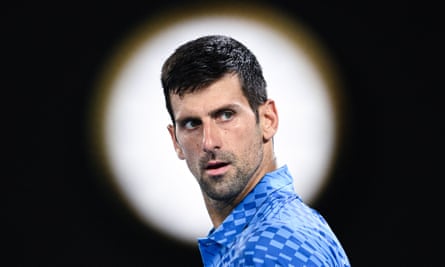 Even those who dislike his politics, demeanour and views on vaccination are still drawn to watch him play. "He's a questionable character," said Nabilh Aasine. "He believes he's a bit better than Australia. He believes he's a celebrity who can supersede our structures, our processes, and I don't like that. I find him arrogant.
"At the same time, he's a charismatic guy. So we have to view this situation with a little bit of nuance. He's a good player and he can be a good bloke, but at times he's made faulty decisions."
Another fan said Djokovic was once her favourite player. He has now fallen well down her personal rankings. "It's not just his stance on vaccines, it's also his comments around women and how much they should get paid," said Elizabeth, who asked for her last name to be withheld.
In 2016, Djokovic apologised for suggesting male players should be paid more than women because they attract greater interest. "Novak's ban has been talked about to death," Elizabeth said. "We get it, it was a hot button issue. But there's always going to be two very divided sides to this. It's time to just coexist."
To his vocal supporters clad in red, white and blue, Djokovic is a hero treated unfairly by a government and a former Australia prime minister eager to highlight "strong border policies".
"Of course he was mistreated," said Kovitch. "It's politics, you know the rest. But now he's here and we've got to think about what's happening right now."
Djokovic has always had strong support at Melbourne Park, especially from the city's large Serb community. After each winning game, his fans waved their flags with vigour. His face was cast on some with the acronym GOAT.
For some, Djokovic's return was another sign the city is coming back to life after long lockdowns separated families, not just tennis players.
"It was just ridiculous," said Djokovic fan Toni Rakonjac, when asked about his deportation. "We really went overboard. People just got swept up in it all. We need him here. We need to keep politics out of tennis. We need the crowds. We need the money here in Melbourne. It's been a crazy, crazy, crazy few years and we need to support our businesses."
With a straight-sets demolition of the Spaniard Roberto Carballés Baena, it was almost like he never left.